Having a baby girl is one of the most beautiful blessings of life. A new baby is going to come into your life and make it beautiful. We all know that children grow up in the blink of an eye so you should enjoy this time while it lasts. Sending out baby girl announcements is fun and creative work. For a beautiful baby, you need to have the best baby girl announcement. These heartfelt announcements are always going to be a beautiful memory for you. Down below are some warm and lovely heartfelt baby girl announcements to welcome your child into this world.
Baby Girl Announcement:
Today is a beautiful day for us as a beautiful baby girl has entered our lives and our family by the grace of God making it a dream come true for us.
The good Lord has blessed us with the most beautiful baby girl ever. Do keep me and my family in your prayers as we move ahead into this new chapter of life.
I am sending this to you to let you that we have been blessed with a gorgeous baby girl. Do send prayers for this new addition to our family.
Just wanted to let you know that we have been blessed with another bundle of joy; a sweet baby girl. We would love to have you be a part of our happiness.
We are extremely happy to announce the new member of our family, my baby girl. She can't wait to meet all of you soon!
All our dreams have come true as we welcome the newest member of our family, our sweet, tiny baby girl.
With extreme love and happiness, we announce to you the new member of our family, a baby girl! She has already made us happier and we hope you can be here with us too.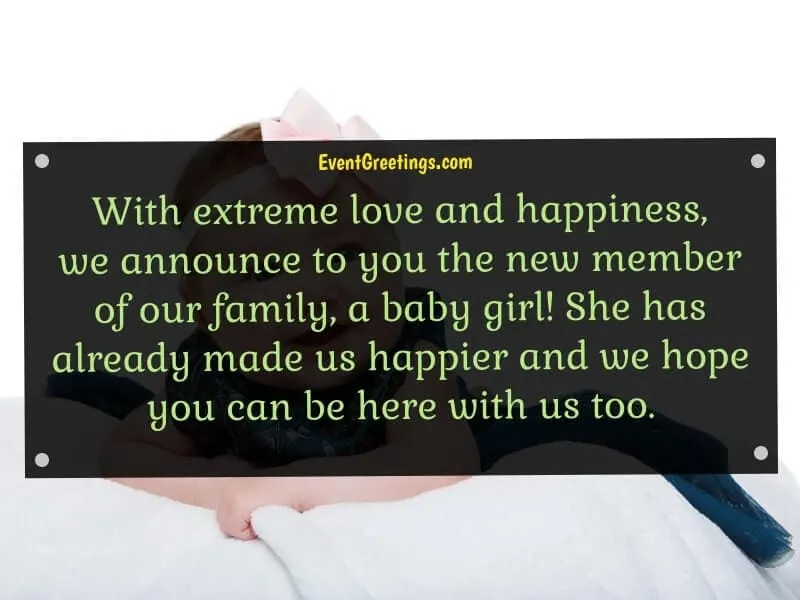 Today, we would like to welcome you into a magical moment of our lives as we welcome our baby girl.
With the new baby girl here, we hope all of you can be here to shower her with your love and your attention, I would love to have you here and I'm sure she would too!
God has blessed us with yet another happy miracle and we would like to officially introduce you all to our sweet baby girl. Let's give her a warm welcome.
Read: New Baby Girl Wishes
It's A Girl Announcement:
Hey you! Get all your dolls and dresses out, we have finally welcomed a new member in our family and it's a girl!
With tiny hands and even tinier feet, there is now an angel living within our house. We wanted to let you know that it's a girl and she says hi!
God has sent down his favorite baby from heaven and we are so privileged to hold this sweet, tiny, baby girl in our arms. It's a girl, everyone!
As the new baby comes into our lives, we are sure we heard the angel sigh and the heavens rejoice. We are pleased to announce that it's a girl!
With shining eyes, tiny feet, and a toothless grin, there is a new baby girl in town who has already made us the happiest parents ever!