Good Morning Monday
Mondays are the start of a new week, and the thoughts you think of this day are likely to last the whole week. So, it is essential to start Monday morning with positive thoughts and a positive mindset. If Monday is approaching and you want to wish someone good morning to provide them with positive energy and optimism, here are some Good Morning Monday quotes. Mondays are also the beginning of a hectic schedule and workday, which is why it is quite necessary to stay focused and motivated to make yourself feel better. The hard work of today will give you a fruitful tomorrow.
Motivational Good Morning Monday Quotes
Good morning beautiful. Rise and shine! May your week be as lovely as you are. I pray to Lord to keep you happy every single day of the week.
On this beautiful Monday morning, I wish you a day full of adventure. May every day be such an adventure that you will cherish all your life.
What a glorious morning! So, to the person I care about the most, I wish you a day that surrounds you with positivity. I hope you pour your energy into the things that will help you to become a better person.
Good morning my dearest. I hope you had a good rest at the weekend. Now, it's time to work hard again. I hope you work hard today, and may your hard work create a beautiful future.
Every day is a blessing. It means that God gave us another chance to see a beautiful sunrise. Good morning Monday! Have a great morning full of joyous moments!
On this beautiful Monday morning, I wish you create memories that will make you smile when you grow old. Life is all about such little things.
Good morning to one amazing person! I hope this morning brings you luck that will change your life for good. I hope it becomes a memorable day!
To someone that I genuinely love, may your Monday be peaceful. I hope it brings you peace within yourself. May good vibes surround you today.
What a great Monday morning to be grateful! I hope today you be thankful for all the things that you have in your life. It is all God's blessing.
Today, spend time with yourself to discover more things about yourself. And I hope today, you figure out a lot that is unfigured in your life. Happy Monday!
It is such a pleasure to wake up to another beautiful morning! Every day is a blessing. And I hope you never hesitate to accept that. Good morning.
Monday is such a beautiful day to be happy. You deserve all the happiness in the world, no matter which day it is. Good morning. I hope happiness comes to you today.
I know you had a very rough week last time. I hope this week becomes more peaceful. I hope you heal from whatever is bothering you and learn to live happily. Happy Monday!
I hope this Monday morning, all your wishes come true. May everything you aspire for is fulfilled, giving you a lot of happiness that you always deserved.
Good morning. On this Monday morning, may you learn all the things that will help you become better in life. I wish you a day full of positivity and love.
Good Morning Monday Images
It is such a beautiful Monday to be optimistic about life. I hope all your negative thoughts disappear as you wake up this morning. May your day be full of love and light.
As you wake up from the night's rest, may your eyes open with hopes and dreams that you want to fulfill for yourself. May your Monday be happy as ever!
I hope you start your Monday by loving yourself. Self-love is what keeps us going in life. Never forget that! Good morning.
Another morning has come showing us a path to a successful life. May this week be less stressful for you. I know you are working hard, may your hard work pay off this Monday.
Friday just felt like an hour ago, and Monday has come by already. May this week bring you a lot of joy that will keep you going. Good morning.
As you start your Monday with your favorite cup of coffee and the book that has been engaging you, may you feel calm and less stressed about life. Everything is happening at its own pace and is sure to work out.
Good morning dearest. It is time to wake up and face another Monday. I know you hate Mondays, but you have got to deal with it. I am sure this one will be sweet.
Here is another Monday bringing us joy in another form. Yes, we're working so hard right now, but think of all the fun we'll have when we retire. We're both getting there soon!
Happy Mondays start with a beautiful smile like yours. I hope you smile the most beautiful smile as you wake up this Monday morning. Have a great day!
Today is Monday, and it is such a great day to spend time with yourself. I hope you know that you are your best friend. Be kind to yourself and don't stress over every small thing.
Good Morning Happy Monday
Good morning to the loveliest person that I know. I hope this Monday will make you crazy pleased with new beginnings, new accomplishments, and new goals.
It's Monday and also a new day. New days always brings new beginnings and new opportunities. May this day bring new challenges that you will overcome with grace. Good morning.
Good morning. If you have anything to accomplish, take this Monday as your golden opportunity to achieve them. Have a productive day ahead.
Each day in a week brings us new emotions. May this Monday bring you the feeling of overwhelming happiness. Good morning, my man.
Not all Mondays are meant for hard work. Some are made for enjoyment as well. May you spend this one with joyful moments. Good morning.
Good Morning Monday Quotes
Mondays are the start of the piles of work that have been stacked up to complete. I hope your harFd-working Monday will pay off on an exciting Friday. Good morning!
Good morning. A beautiful Monday morning has come with a lot of challenges and surprises for you. I hope you get the best out of it.
Monday thoughts are something that will last for the whole week. I hope you start yours with a lot of positivity. Good morning.
Good morning. I hope you work towards your passion today. Everyone feels better when they aren't forced to do something they dislike.
It doesn't matter which day of the week it is. You should put a smile on your face and be happy every day. Good morning.
Good Morning Monday Blessings
Good morning my precious. Today is Monday and a beautiful day to start the work week with a purpose. Let us live this Monday with a new passion for work.
Today is a hopeful day. A day to be optimistic about our lives, and thank the Lord for all the things that he has blessed us with. Have a grateful Monday!
People say that time will heal everything. I hope this Monday heals every wound from your past. I hope you are happy as ever.
You might be wondering when this day will end because it's Monday. But I am sure your day will be better than everyone else's. And I'm sure you'll find ways to smile and spread smiles everywhere you go.
Good morning. Don't let anyone drain your energy today. You are beautiful, loved, and appreciated. Always keep that in mind. You are the reason for my happiness.
Positive Good Morning Monday Quotes
Monday is the beginning of a brand-new week. So, I pray you to stay healthy every day and do not get sick. Have a fantastic Monday morning, and make your Monday evening super rocking.
Mondays may seem very tiring because we must go to work again. But it can be very refreshing, like after summer, when it starts to rain. Good morning and hurry up, else you will miss your train.
I hope you have the best start to the week, my dear. We will celebrate the beginning at the end of the day by drinking beer. Have a motivational Monday. Celebrate it like a Saturday.
I hope you will complete everything you want to do this Monday. I hope that you will feel energized again after relaxing all of Sunday. Spend a good Monday morning, darling.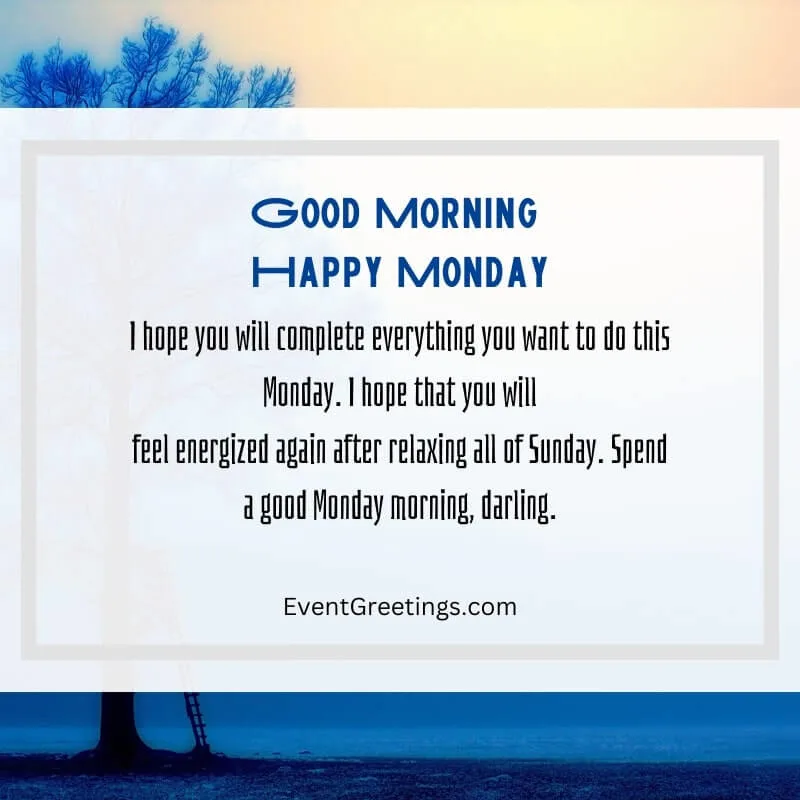 I hope that just like the sun's rays brighten up the night sky, similarly, you will be surrounded by positivity to lighten up your Monday morning, which will help you soar high.
On this beautiful morning, I wish you all success in life. I hope you dodge all the knives life throws toward you and survive.
People say that the person who starts their day early feels energized all day long. So let us enjoy the morning peace and different birds' beautiful songs. Happy Monday, and enjoy the day without stress because nothing can go wrong.
I hope you will have the strength to face all the difficulties in life. So, enjoy the morning with your kids and your beautiful wife. Enjoy your Monday morning, dear, without any fear.
The morning sun has no one to compete against in terms of beauty. Hence, enjoying this beautiful time and the beautiful sun is our duty. I wish you a fabulous Monday morning and do stay healthy.
Mornings mark the beginning of a new day, whereas Mondays signify the beginning of a new week. So, I hope you will enjoy this Monday morning and get what you seek.
Good Morning Monday Blessings Quotes
Always remember that when life throws you a lemon, use these lemons as ornaments, and that will ensure your contentment. Happy Monday, and we wish you fulfillment.
Many do not see the beautiful morning sky, where the sun shines brightly, and where the pretty birds fly. So, I hope you will enjoy Monday morning without being shy.
Nothing will make your day gloomy if you start your day with a pinch of positivity. Treat yourself to a beautiful morning time with enough creativity. Good morning, my little celebrity.
I wish you all the success in the world, dear friend. Try to wake up early and not follow the night owl trend. Early morning breakfast is a delicacy. Enjoy your Monday morning, like the beautiful morning of your fantasy.
I wish you a long and happy life ahead, but for that, you must get off early of your bed. I hope you will have an excellent Monday and week ahead.