Good Morning Text To Your Crush
1. Good morning beautiful. I hope you slept well last night. I hope you know that you are amazing and you deserve all the happiness the world has to offer.
2. Good morning sunshine. I barely slept last night because the excitement of seeing you today didn't let me get a good night's sleep.
3. A kind-hearted and beautiful girl like you deserves to be happy every single day. I hope that each day is as beautiful as the last one. Good morning!
4. The sun is shining as bright as your smile today. It is a sign that our day will go well. Good morning, handsome.
5. Today is a lovely day to tell you that you are beautiful. You are wonderful, my love. Good morning. Have a great day!
6. On this glorious morning, I wish you were here beside me. I would wake you up with a good morning kiss every day.
7. It is a gloomy day today, but I don't care as long as you are with me because you are my sunshine. Good morning, love.
8. Every day I wake up to the excitement of seeing you. I guess that is what keeps me going. Good morning, beautiful.
9. Good morning. I dreamt of you today. We were at the beach watching the sunset together. I hope it soon turns into a reality.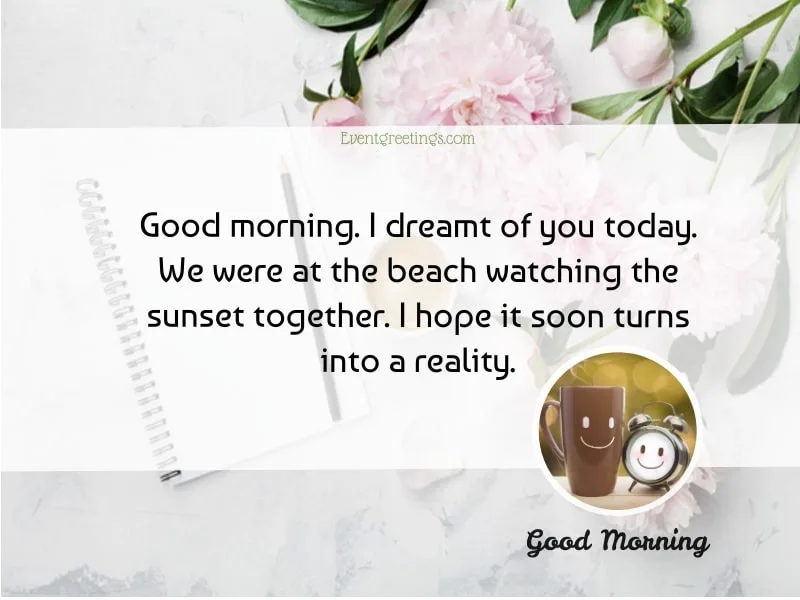 10. Good morning, princess. I hope your day is as cheerful as you. Don't forget to smile because it brightens up my life.
11. I have a feeling that today will be a lucky day because I am going to see you. I believe that you are my lucky charm.
12. Good morning to the most beautiful person I know. I hope you spend your day surrounding yourself with positivity. Have a good day.
13. Good morning. Before starting the day, I would like to let you know how special you are to me. I fell in love with you the moment I saw you smile.
14. It's time to rise from a good night's rest and start the day with a big smile on your face. Good morning.
15. My morning becomes perfect when I get to see you smile. So, I hope that you smile the widest to make my day a good one.
Flirty Good Morning Texts for Your Crush
1. I hope this new morning brings you many good things in your life, a good job, health, and probably a good wife. Stay blessed on this happy good morning that ensures the best beginning.
2. On this new morning, I send you lots of love and well wishes for a magical beginning. Have the best morning, lots of love, and keep shining.
3. Seeing you first thing in the morning is the best thing ever. Getting tired of seeing you is a thought I do not dare. Thanks for this pleasant morning, and I hope it will ensure a sweet ending.
4. We should go and watch the sunrise together. The sun has nothing on you in looks, as well as temper. Good morning, rise and shine, sunshine.
5. It seems like I start a brand-new day thinking of you. It has happened so many times that it is nothing new. I hope you have the best morning while feeling the touch of every drop of dew.
6. I hope this new day brings you lots of positivity. So, start your morning with something good to eat, buddy. Good morning, and shine, you are someone's ray of sunshine.
7. A new morning means a new day full of motivation and new possibilities. I hope you are motivated to fulfill all your responsibilities. Have a great morning ahead, and create beautiful memories.
8. Good morning, and I hope you have had a good night's sleep and are ready to take on anything. I hope you will have a very productive and exciting morning.
9. You are having a hard day, and I know it. I pray that everything will be all right on a new day, take care of yourself and stay fit. It is a fascinating morning, so enjoy every bit.
10. I hope you have a bright smile there on your face like the morning sun. Enjoy the day to the fullest and have lots of fun. I wish the best morning to the best person.
Good Morning Text For Crush
I dreamt of you the whole night. As soon as I woke up, I saw the sun smiling so bright at me. I guess he is trying to say that my dreams are coming true now that I have you.
Good morning, baby girl. I hope you had a good night's rest. Its time to rise and shine. Go ahead and make your day as cheerful as you.
Good morning, handsome. Here is another morning to add joy to your life. I hope you spend this day enjoying yourself in everything you do.
Today is a beautiful morning to wish my beautiful girl good morning. Good morning, beautiful. Have a fantastic day, and don't forget to smile!
Do you know what makes my morning perfect? A cup of coffee, rain, and your smile. It's raining outside, and my coffee is right beside my bed. All I need is your smile now.
Good morning, darling. I hope your day is filled with everything you want and deserve. I hope you spread sunshine everywhere you go.
Good morning. Wishing you good morning makes my day a little brighter, and I hofpe it does the same to you too. Have a beautiful day, my love.
I'm going to welcome this beautiful day with your beautiful smile. Even the sun is overwhelmed with joy when he sees your smile. Good morning, gentleman.
Good morning. Has anyone told you how beautiful you are yet? If not, let me tell you. You are the most beautiful person that I have ever come across my life
I get happy when I get to text you early in the morning. I can only imagine how glad I would be if I got to meet you this early. Good morning.
I don't know about you, but my morning routine consists of being grateful for everything that I have in life. You are one of them. Good morning, my sweet angel.
It doesn't bother me how the weather is early in the morning. All I care to see as soon as I wake up is your smile. Watching you smile makes my day perfect. Good morning.
I thank God every day for sending such a beautiful angel in my life. You truly are a blessing in my life. Good morning, beautiful. I hope you have a good day ahead.
This life we live is truly incredible. And you make mine more beautiful by being in it. Good morning, love. Love yourself and be happy today.
Good morning, my dearest. Thank you for being the reason why I wake up with a smile on my face. It is such a joyful moment for me when I do that.
Romantic Good Morning Text To Crush
My heart is the happiest because you live in it. I don't think there is any way to get you out of my mind and my heart. Good morning.
Good morning to my bundle of joy. The universe must be just as glad as I am to have you. You are such a precious sweetheart.
Good morning my sweet angel. I am happy most of the time because you are there with me. I hope you know how happy you make me.
There isn't a single moment when I don't think of you. You are on my mind every second of every day. Good morning, lovely.
Good morning, baby girl. Today, I want to be with you and stare you as you smile the world's most beautiful smile. I am in love with that.
Good morning. I am truly, madly, and deeply in love with you and everything you do. You are so perfect for me. Don't you think so?
Even when I am in a bad mood, your smile makes everything alright. I am glad that I found you. I see my soul mate in you. Good morning.
Good morning, my dearest. Everything in this world seems beautiful when I am with you. Is that magic? Or did I fall in love with you?
I can keep looking into your eyes for days and still not get tired. That is how deeply I am in love with you. Good morning, sweetheart.
Good morning, my lucky charm. Ever since I met you, only good things have happened to me. I think it's God's sign that we should be together pretty soon.
Good Morning Text To Make Your Crush Smile
Having a good morning is very important to have a fantastic day. I hope it does not get ruined in any way. Good morning and best wishes. Enjoy the day with some lovely dishes.
We should all hope to be as diligent as the sun. It always rises early in the morning and looks beautiful for everyone. So, shine bright like a morning sun.
Did you somehow miss the morning sky, beautiful with flowers blooming and birds flying high? Stop worrying and focus on having the best morning.
The early sunrise is the most beautiful view ever. We should go on a walk, check out the morning beauty, and have tea of good flavor. Say good morning to the new day here.
Early to sleep and "Early to Rise" can help a man see the most beautiful view they must realize. Sending love and well wishes. On a new morning, forget about your bruises.