Birthday Wishes For Granddaughter
1. Happy Birthday my granddaughter! I can't believe how a tiny bundle of joy I had in my arms now became the most beautiful quinceanera I've ever seen. I pray that the God never leave you alone & may you have the best happiness of the world in your life.
2. My beautiful granddaughter, I adore you in my heart & hold the purest feeling for you. You shine our life like a star and give us warmth like a sun. I love you and I want to wish you a happy fifteen years birthday.
3. Dear granddaughter, I love you for I've seen you born, taken your first steps together and grow up to what you are today, I'm proud of you. Chase the dream of yours & live the life to its fullest. Have joyful a happy birthday.
4. Happy birthday to my granddaughter! I hope God bless you with happiness & that all your wishes and dreams come true, for the pride and happiness of all those who love you.
5. Dear granddaughter, you are the most precious gift that God has ever given to us. You have given us happiness & pleasure. You made our bond stronger. Happy Birthday, dear! May God always keep you healthy let you smile on your face.
6. Dear granddaughter, I am very proud of you. It seems like it was yesterday when you were born and now you are fulfilling your fifteen chimeras. A very beautiful happy birthday to you.
7. Happy birthday beautiful granddaughter, you are the princess of our family. Always remember granny always adores you and will love you with all my heart. May God give a wonderful life ahead!
8. My princess, when I see you, you remind me so much of your Mother, you have her warm smile and you radiate joy wherever you go, happy birthday dear granddaughter.
9. My cute granddaughter, when you grow up I want you to know that your sweetness filled our heart and your babbling was the sweetest song we heard. Happy first birthday dear.
10. Dear princess, you have become a woman over the years yet it feels like it was yesterday that you were this tiny bundle of cuteness. We were so happy to have you in your life. Celebrate your birthday with joy.
Best Birthday Wishes for Mother from Daughter
Happy Birthday Wishes For Granddaughter
11. Dear baby girl, I am so grateful to you for coming into our life. You were my playmate, no matter how bad the situation is holding you and your smile made all the pain go away. Happy birthday, granddaughter.
12. It's been 2 years since you came into our life. Our life has become much more interesting by spending time with you. Thank you and happy birthday. I hope you read this when you grow up and realize how precious you always were.
13. My granddaughter, your old grandparents are here to wish you much wisdom, love and health. Happy birthday to you. Celebrate this day with your family and friends with joy.
14. Happy birthday, honey. Welcome to the age of youth. Make the best of your life and be an admirable woman for the world to see. Just remember you will always be loved by us dear granddaughter.
15. Sweetie, you have filled our life with excitement and happiness. Your chirping wakes the home and your grandpa and I, always wait for it every morning. Have a great happy birthday.
16. Dear, you're a piece of me, you are my everything! I can't even articulate what I really feel, I can only thank you for the gift of having the best granddaughter in the world. Happy birthday.
17. My girl, I am lucky to have a granddaughter so sweet and intelligent as you. I want you to have the best happy birthday and may all your dreams come true.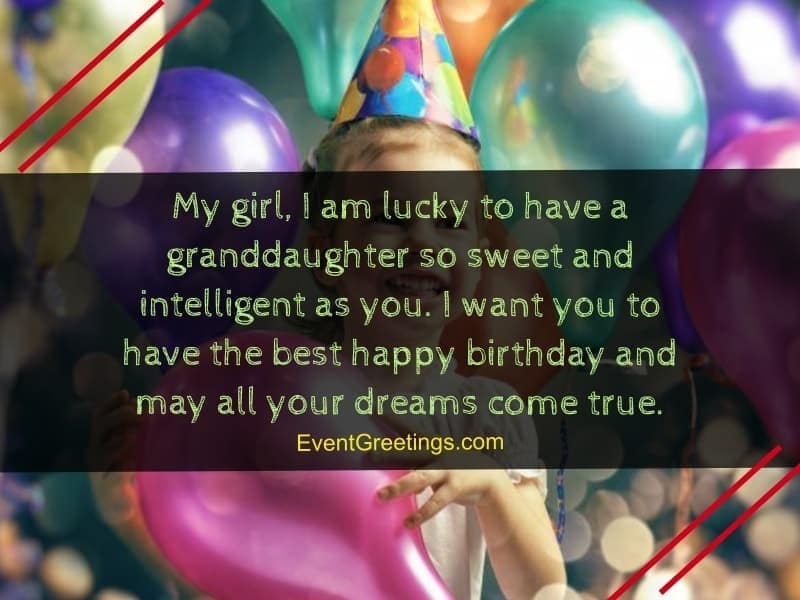 18. Dear granddaughter, the joy I felt with your birth can't be expressed in words. Now you are becoming a lady in front of my eyes that makes me so proud. Many happy returns of your birthday.
19. For me, you were the perfect gift that came at the right time, dear granddaughter. Thanks for being the part of our world. Have the best birthday every year.
20. Beloved granddaughter you are a beautiful angel who came to decorate our life with felicities. Your smiling face gives me warm fuzzies. Be that way always. Happy birthday.
Birthday Greetings For Granddaughter
21. The beautiful moments in my lifetime was to be able to see you grow up in front of me. I am so happy to be a part of that. And you my cute granddaughter be jubilant and playful always. Happy Birthday to you.
22. My lovely granddaughter your birth has changed my life forever. You gave me the taste of becoming a grandpa. I will always cherish you with all my heart. Have a blissful happy birthday.
23. Kiddo you brighten our heart with your smile and in every life, I want to be your granny. Have a prosperous life with your loved ones. Happy birthday.
24. Dear, congratulations on another year of life, and may God grant you all the happiness! Have a nice day!
25. Dear best granddaughter, thank you for supporting us in our old age. I wish you all the happiness, not only at this moment but for everyday and have a life of fullness and peace. Happy birthday.
26. My granddaughter, in my heart you already have your permanent abode. Keep smiling and make your surroundings happy with your charm. A very happy birthday to you.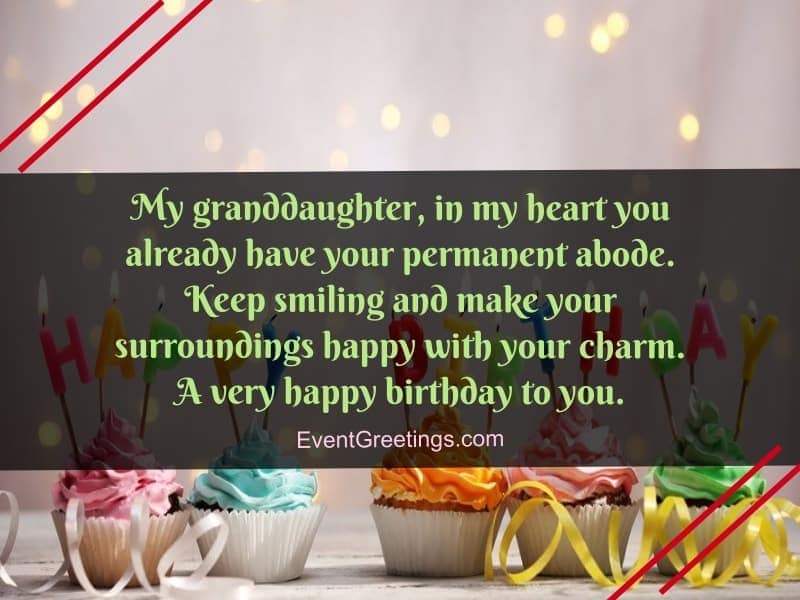 27. Two years ago on this day, you transformed our lives and renewed hope and love. You have been and are our greatest treasure and knowing that I am part of your life it makes me happy. Happy birthday, sweetie.
28. Darling, Happy birthday. May you rock the world with your beauty and intelligence like you filled our life with happiness. We love you so much dear granddaughter.
29. Happy birthday dear granddaughter. I wish you the best in this new stage you are about to begin. Take advantage of each day to achieve your goals and enjoy your youth to the fullest.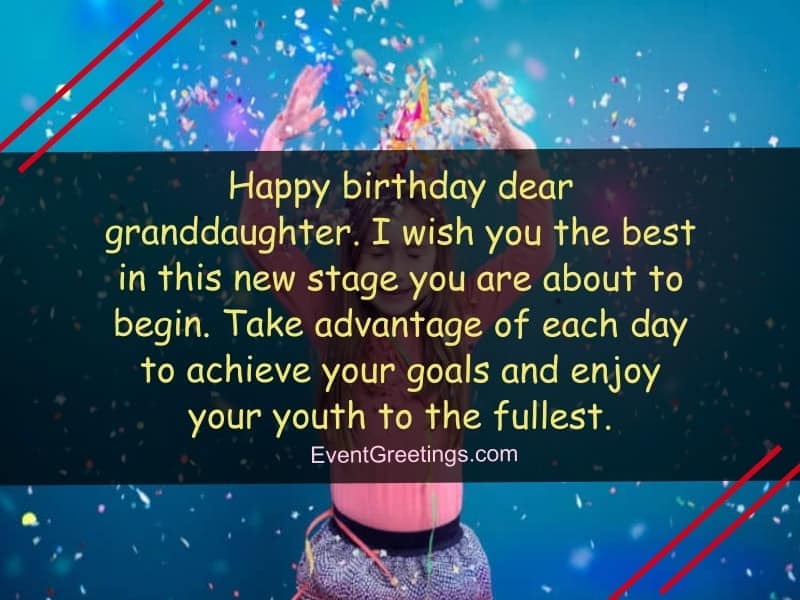 30.My dear, the vault of happiness of our family. On your birthday I just want you to know that we are so proud of what you have become so far. Best wishes for your future. We love you and Happy Birthday.