Surely, you can wish your husband in a lovey-dovey way but why not take a different route and surprise him with your humorous side. These funny birthday wishes for husband haven't excluded the hints of your undying love for him. And let the sarcasm in you take the steering wheel to tell your husband the things that otherwise you wouldn't.
Be less boring by not wishing him as you've always had. Later, you can let the romantic in you take the steering wheel. But, first start the day with a bit of sarcasm.
Funny Birthday Wishes For Husband
1. Happiest birthday hubby. May that part of your brain get ceased that makes you think of the pranks that never work on me or anyone to save you and me from little doses of embarrassment.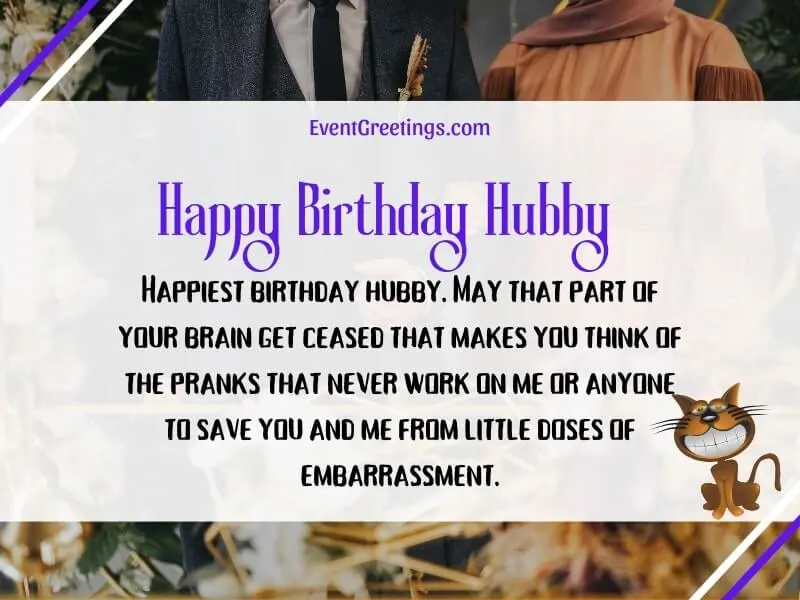 2. Another year is knocking at our doorstep inviting us into a cycle of eating burnt food together and learning teen TikTok dances even when we're in our 40s. But let's walk in. Happy birthday, hubby.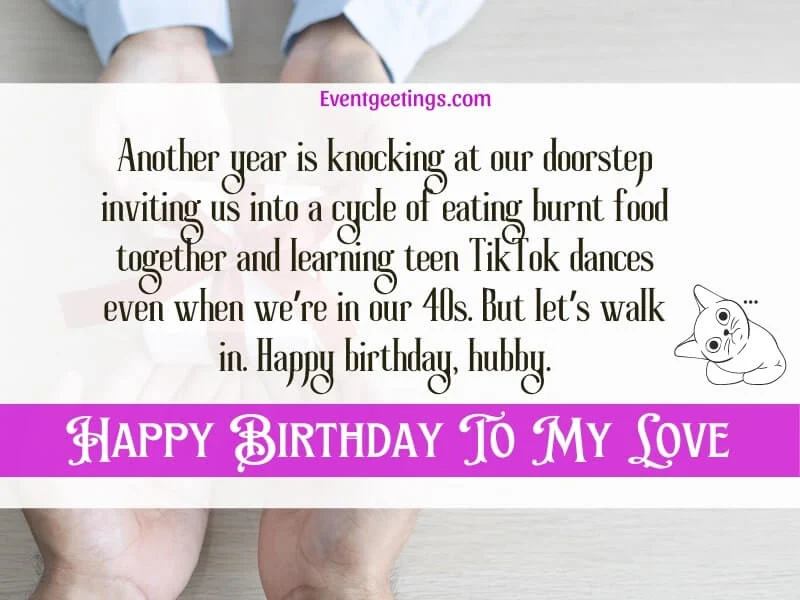 3. Even when you're the one who irrupts a volcano to disrupt the zen in me, I love you for the Gucci bag you buy for me to bring me peace. Love you again. Happy birthday.
4. Happy birthday. I needed a man with guts and patience only to tackle the chaos in me, and I'm so glad I found you but I never said I could do the same!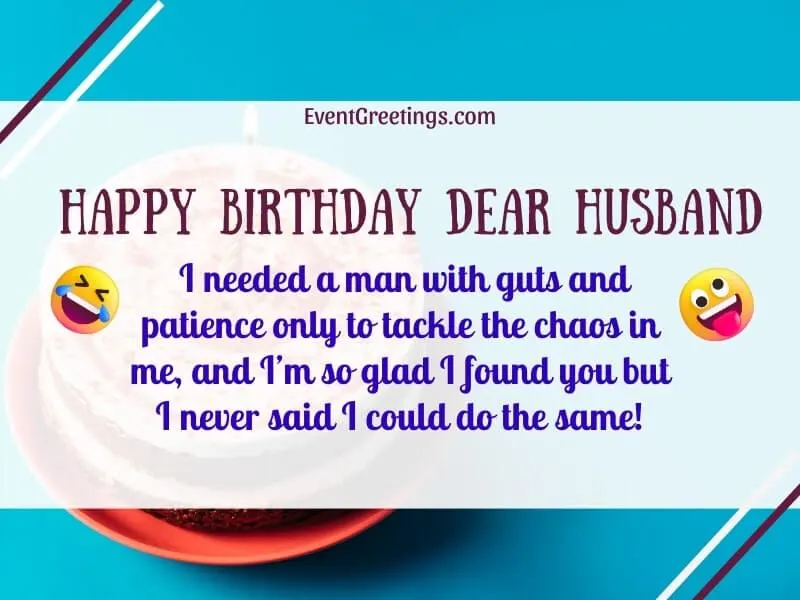 5. Never have I married a man who never puts dishes in the sink, or dries the towel before throwing it away on the bed and yet love him tons? Yes, I have. Happy birthday, love.
6. I went to buy a birthday present for you and dare I say, I bought more things for myself, but I know your true happiness lies in my happiness, right? Happy birthday, honey.
7. You're getting older, honey. But you still look young, your grey hair and wrinkles on your face tell lies and I still love you. One of those three is the truth. Happy birthday, hubby.
8. As it's your birthday, I promise you two things. I won't drive you crazy and I'll let you drive me crazy. Happy birthday, hubby.
9. I'm not lying when I say you're the best husband in the world but also when I say you're the man who completely drives me nuts thrice a day but I love you. Happy birthday.
10. I don't know what I'm more grateful for, your cooking skills, cleaning skills, or babysitting skills! But I do know that your skill-set puts me at ease and at peace, love you. Happy birthday.
Read: Birthday Wishes For Husband
Funny Birthday Husband Quotes
1. Only today you can choose the wine to hydrate yourself, dance like you're about to break your leg and get the stupidest tattoo. Take my allowance as your biggest present, love you. Happy birthday, hubby.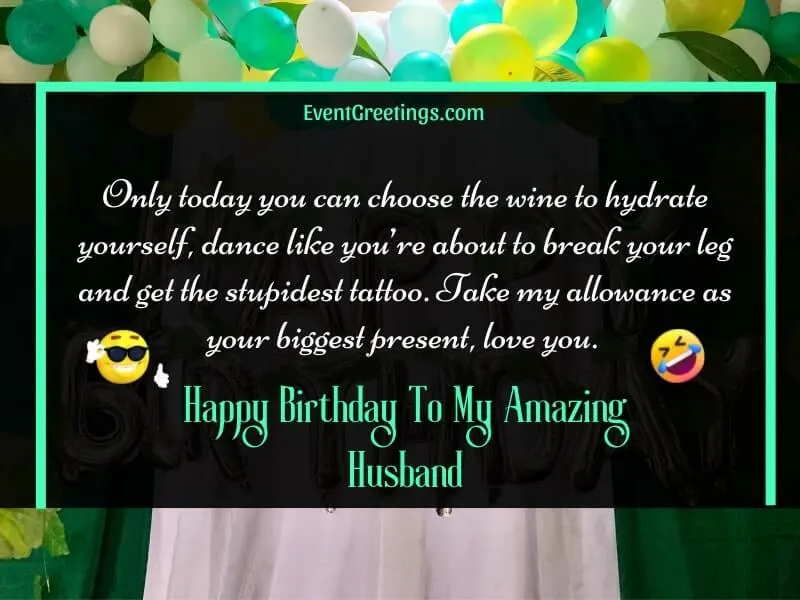 2. A few cocktails kick in you and I know I'm going to witness the teen and child version of my husband. I can't wait to see that cry baby today, but first, happy birthday, love!
3. I'm so lucky to have found a chubby husband because you never let me miss my childhood stuffed animal, love you tons; happiest birthday, honey.
4. Occasions like this I love because it's a lot easier to deal with you calmly, patiently, lovingly; but it doesn't change the fact that you're the best husband one can have. Happy birthday.
5. As long as you cannot see my daily journal or gain the superpower to read thoughts, I'm safe; but I've never lied about how much I love you! And that's true. Happy birthday.
Check: Future Husband Quotes
Funny Birthday Wishes For Husband on Facebook
1. To the cutest husband who told me today that it's his birthday but out of happiness, he'll treat me as if it's mine; happy birthday.
Ps- He didn't tell, but I know he thought so!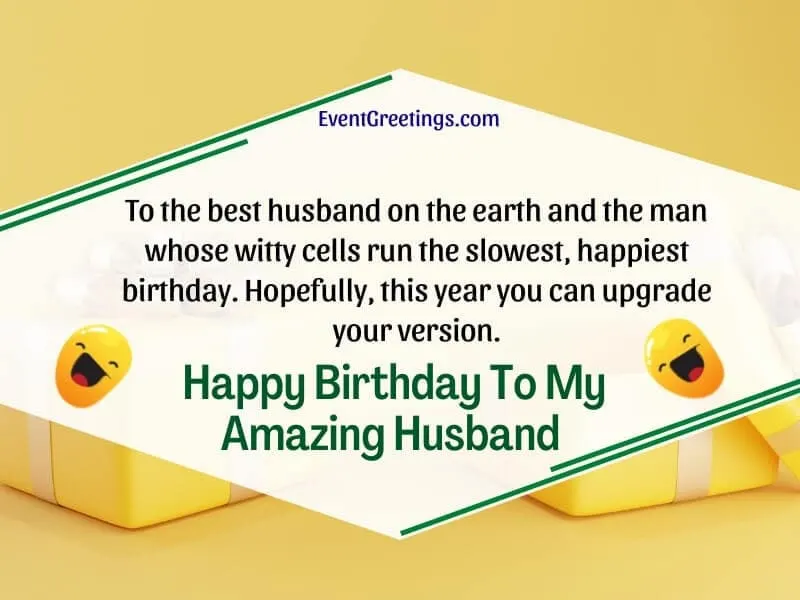 2. Happiest birthday hubby. Don't you worry about your age, you're surely getting older but you're still younger than these flats in New York!
3. Happy birthday, honey. I know I'll love you forever. I also know that I'll never figure out whether your habit to use humor as a coping mechanism is something I adore or get annoyed by.
4. To the best husband on the earth and the man whose witty cells run the slowest, happiest birthday. Hopefully, this year you can upgrade your version.
5. Happy birthday, husband. As a return birthday present, can you promise to not throw me off today with stupid jokes; I really want to be nice to you today.
6. As today's your birthday, don't forget to show gratitude to God for everything you've got; and keep me on that list first. Happy birthday, husband.
7. Happy birthday to my husband, a man who is also a daddy for my cats and me! We'll help you have the best one.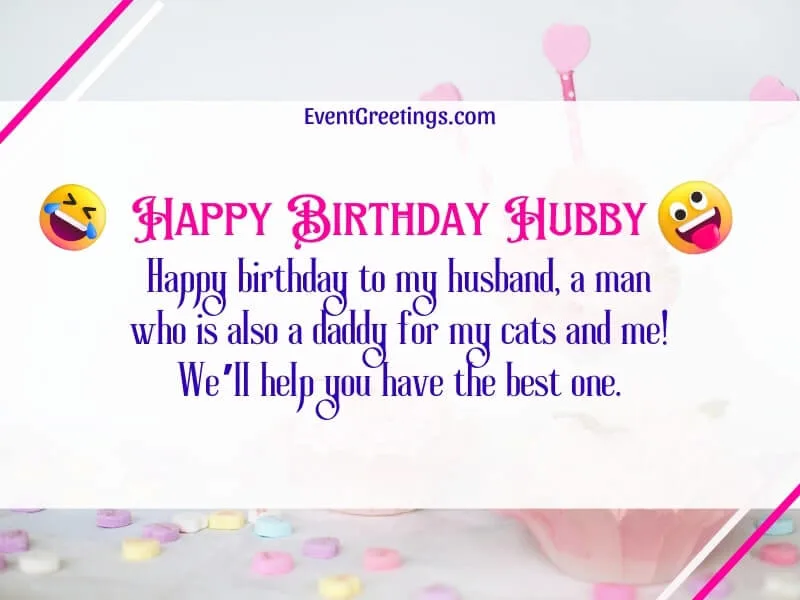 8. A simple girl never saw you coming with a bag full of drama and chaos, otherwise, she would have not gotten married to you. Just kidding. Happy birthday, hubby. Love you.
9. Hopefully, the chef in you who never cleans after cooking and the sarcastic in you who always jokes at the wrong time, stay asleep; happy birthday honey.
10. Honey, don't let anyone tell you that the grey hair and wrinkles indicate the beginning of the journey of an old man, I'm still alive to remind you that every day. Happy birthday, hubby.
Take A Look: Thank You Messages for Husband
Funny Happy Birthday Wishes to My Husband
1. The day we got married, my mother-in-law wished me luck instead of giving blessings and it didn't take me a while to make sense of it! Just kidding. Happy birthday, love.
2. Dreams surely come true. Sometimes, they do take 180 degrees to come true but they do. I dreamed of a tall, handsome, sensible husband, and see I, have you! Happy birthday.
3. You and our dogs are the most precious in my life but because today is your birthday love, I promise, I'll be as gentle with you as I'm with our pets. Happy birthday, hubby.
4. Happiest birthday to the hubby who, sometimes, makes my cheeks blush or makes me grin with annoyance or makes me bite my tongue with anger but never fails to bring a smile to my lips.
5. Happy birthday to my husband who surely has more useless talents than valuable skills but is so gifted with a pure heart. love you, honey!
Funny Birthday Quotes for Husband
1. I'm not sure how you put up with me sometimes. But now you have to do that for our connection is for a lifetime. Happy Birthday to my best friend and spouse! You bring colors to the house!
2. Marriage is all about collaboration! Where a couch potato like you deserves a standing ovation. But this is your lucky day because your birth graced the earth today. Wishing you a happy birthday.
3. Your birthdays are usually extravagant. Why not will it be? After all, you are so vibrant! Happy birthday, my dear hubby! You will also be my honey-bee!
4. You're gorgeous, bright, neat, and meticulous. Dear husband, you are always fabulous. For this year, be happy with only this much flattering. Birthday greetings to you, darling!
5. The kids count the gray hairs in your beard, but I count the wonderful birthdays we shared. You are not getting younger. Now we have started fearing your anger. Yet on the road to old age, you will find me near. Happy birthday, dear!
These funny birthday wishes for your husband will serve you the best if your husband is of a sarcastic nature. By wishing him like this, you're going to begin with a small step toward making his day with little sprinkles of humor. And let's be honest, you can get sarcastic, open your big mouth and tell your husband the things that you can easily get away with. And he won't mind as it's his birthday anyway.