Sending someone Happy 1st work anniversary quotes can make their already special day even more special and meaningful.
In this fast-paced and competitive life that we live in nowadays, it is tough to get a job we enjoy, and it is even more challenging to stick to the job for a long time.
So, the person who has worked very hard to stick to their job for a year needs the warmest congratulations and words of motivation so that they can do even better in their career in the future.
The quotes mentioned in this article can congratulate and motivate a person to do even better in their job.
So, using these quotes can convey your good wishes for the present achievement and any future achievements. Therefore, let us congratulate and motivate the people who have worked hard and thus deserve it.
Happy 1 Year Work Anniversary Quotes to Colleagues
After completing a year, you will get even more patience to continue working so diligently. You have done a fair job in the past, dearie. I hope you will keep working intelligently.
Within the blink of an eye, a year has passed since you joined work. Nowadays, without you, the office seems lonely and dark. Congratulations on making your mark.
I am sure that all the hard work you have put into your job for the past year will reflect someday in the outcomes, dear. Keep the faith, my dear.
Working so hard must not be a smooth job to do. But you still held on for a year, and for that, I praise you. Congratulations, dear, and I know you will survive in the coming years too.
A year might not seem like a long period in general. But when you must work hard, it is a challenging picture overall. Congratulations on doing good. I know your first work anniversary will uplift your mood.
I hope you get to keep up this good work even in the future. Sticking to your job after many hardships shows you are determined and never fear. Congratulations on completing a year.
I congratulate you for working hard for the past year. Make sure to take care of yourself and do not let any negativity come near. I shower my best wishes on completing one year.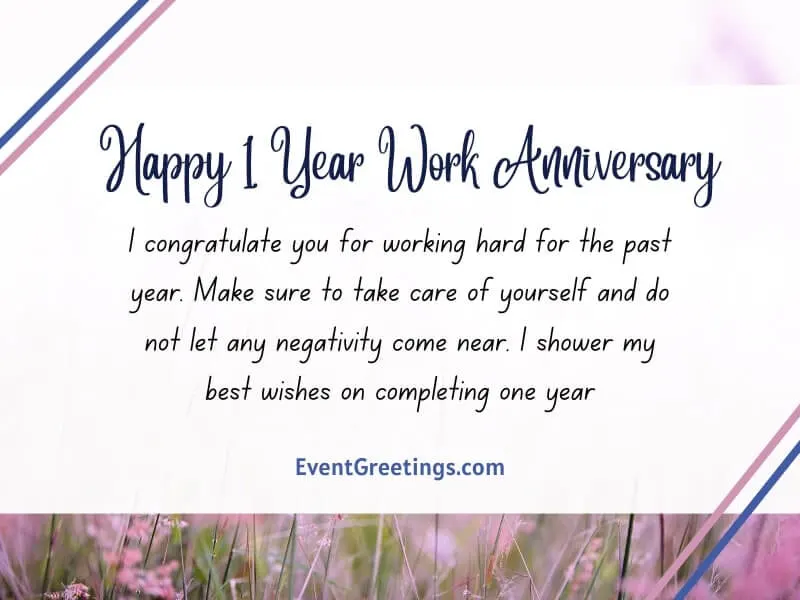 Always have faith in yourself over everyone. Remember to not let yourself down by anyone. Congratulations, and all the best for your future work, and have fun.
Congratulations, dear, and I am glad you enjoyed your work enough that you gave your everything in it for a year. The thought of you leaving is not something that I can bear.
It is like time flies even before you can realize it, dear. It feels like you joined yesterday, but it has already been a year. Sending best wishes, and I hope you have an excellent day today.
Related: Work Anniversary Wishes And Messages
1 Year Work Anniversary
1. Today you've completed one year in this workplace. Happy work anniversary! It was great to work with you and hope to continue this. You've already proven that you are a hard competitor to us. Wish you all the best!
========================
2. My junior colleague, congratulations to you for your 1-year completion of work. I must say you are an excellent employee and I wish you'll contribute to this company with your hard work. You can always count on me. I'll try my best to help you.
========================
3. Big congratulations on your fantastic one year! In just 1 year you've shown that how capable you are. Whenever you need any help, feel free to ask me. May the years ahead bring more success and achievements for you!
========================
4. You are an asset to this company and I hope you'll continue your hard work. Proud of you! Wishing you a wonderful work anniversary!
========================
5. Though it's been only 1 year, it seems like we are working together for many years. You have become my best work partner. Many congratulations!
========================
See: Welcome Back to Work! Wishes And Messages
Happy 1 Year Work Anniversary
6. You are a brilliant and dedicated worker and deserve the best. Keep up the good work. I'm sure you'll become a very successful person. Cheers to your hard work!
========================
7. Congratulations on 1 year of work experience! I feel comfortable and happy while working with you. Any company needs a smart and intelligent employee like you. Best of luck!
========================
8. It's time to celebrate your one year work anniversary! You are not only our co-worker but also a friend. I hope we'll work together for many years! Have a good day!
========================
9. Congratulations on completing a successful year! I'm happy with your performance and appreciate your contribution to this company. Good luck in your future success!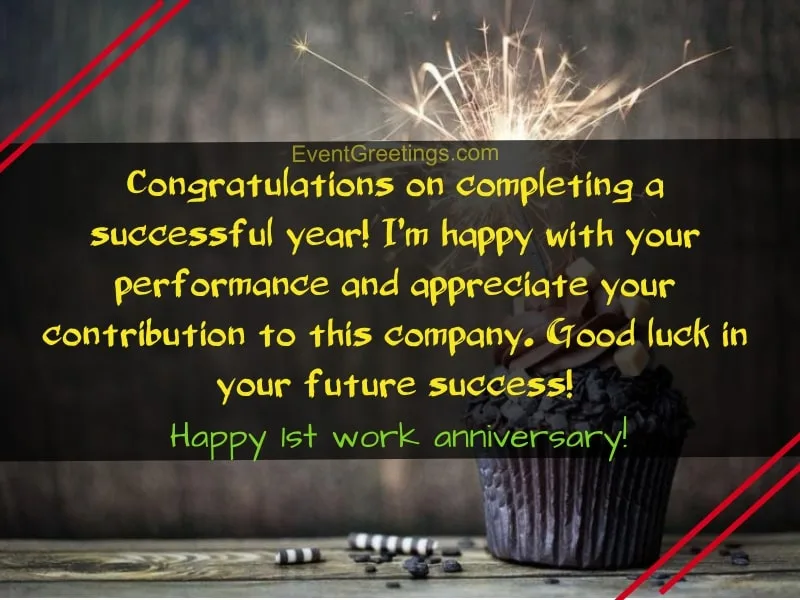 ========================
10. Your hard work, perfection, and punctuality make us look bad. Just kidding! Happy 1st work anniversary!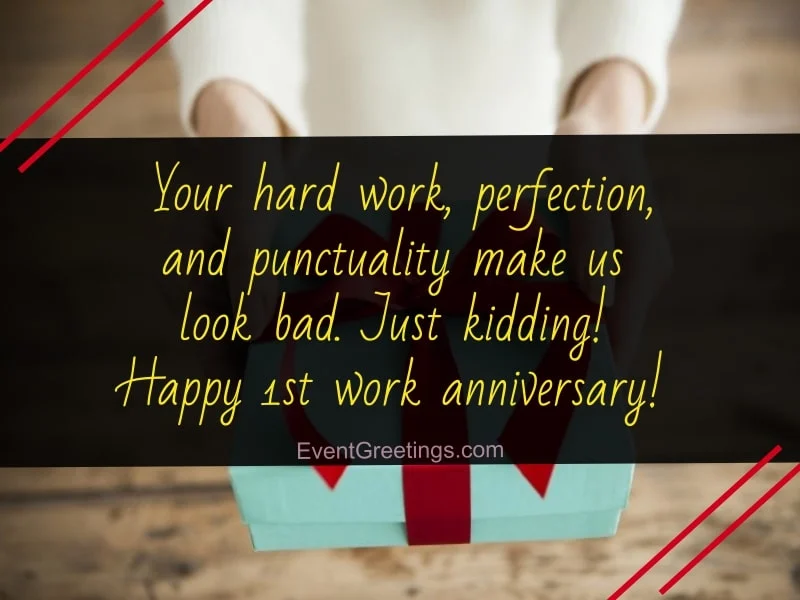 ========================
1 Year Work Anniversary Quotes
11. Congratulations my favorite colleague on your 1st work anniversary! You are doing a great job in your professional life. Your hard work, creativity, and effort are really appreciable. Best wishes!
========================
12. You are an essential part of our company and I'm really happy and impressed with your work. Have a great work anniversary!
========================
13. One year has passed but it feels like you started working with us just a few days ago. You are a valuable member of our team. I wish you'll get all your desired success!
========================
14. My dear assistant, I can easily say that this company's future is bright because it has such good members like you. Well done! Take a break and enjoy the 1st year of your carrier!
========================
15. You are an ambitious and passionate person and it's always fun to work with you. Congratulations on an amazing year of work and all the best!
Simple 1 Year Work Anniversary Wishes
You have worked very hard to get this job in the first place. But even after that, you did not work any less. Congratulations on your 1-year work anniversary, dear.
You have always been so sincere with every responsibility that you are given. I knew that job at your work would not be hard for you even. Your work has a spell. You have done well.
You have proven time and again how meticulous and sincere you are. Therefore, I am not even surprised that your performance is above par. All the best for your future.
Your sincerity and patience have made you a role model for me. You inspire me to do better in life no matter how hard it turns out in reality. Congratulations on your first work anniversary.
Nothing can convey the pride that I feel toward you. Working hard is your passion, and it is nothing new. Still, I would like to congratulate you. With your hard work, you completed a year too.