These happy birthday to a beautiful soul wishes are the ones you can wish the people who carry the heavenly souls. That which is rare must be appreciated. The people with beautiful souls must be reminded of how extremely exceptional they're and if their birthday is around the corner, then let that be the day to remind them. Let's skip the root of wishing these people that is ordinary. Instead of bringing in any other surprises, be the surprise element for them by wishing them in a way that no other would.
And you know how to do that. Without waiting for a further, find the one from these few that suits you and the birthday person the most.
Happy Birthday Beautiful Soul
1. May God keep on rewarding the pureness of your heart and the beauty of your soul with abundant happiness so the rainbows and sunshine stay forever in your life. Happy birthday.
2. For a beautiful soul like you is a blessing of the divine to this earthly realm, I wish you get to live a life filled with heavenly bliss. Happy birthday.
3. May you radiate your beauty as the daisies in the garden and share the cheer as the sunflowers in the field. Happy birthday to the most beautiful soul I know.
4. Let the windfall of love strip away all that's dim and fill your spirit with everything that's of cheer for I wish to see you living in your euphoria forever. Happy birthday.
5. You're the light that the world needs to not let the demons strip away life from this planet. Let it make this world a luminous ballroom. Happy birthday, beautiful soul.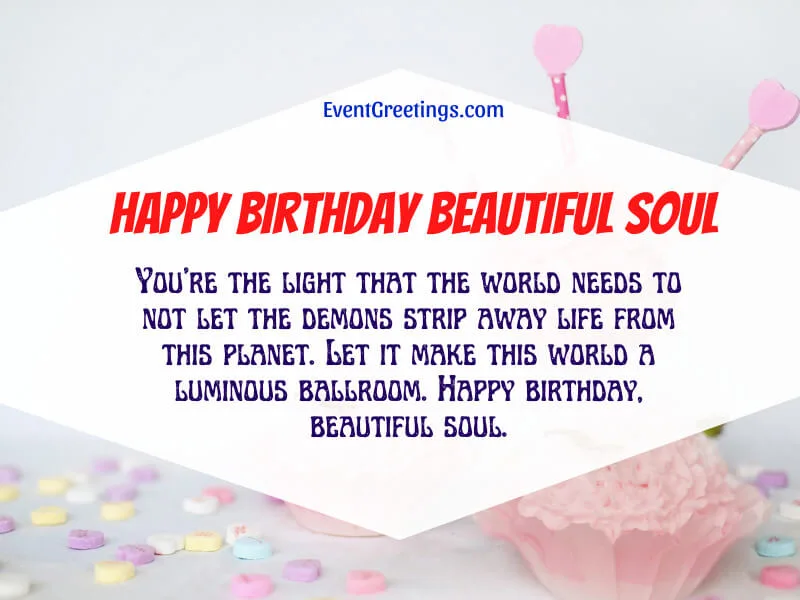 6. I wish this year will be the one where you never get to live any gloomy day and feel blue any day. Happy birthday!
7. May the Universe fill your days with so much fun that life becomes an adventure you'd be tickled pink to live. Happy birthday.
8. I hope your diary gets to hear the most amusing events and best-lived moments of your life this year. May you get to live the best one. Happy birthday.
9. I wish torrents of joy slide into your life to sweep you off your feet and make you groove to the jazz of life. Happy birthday.
10. I wish you to get liberated from everything that weighs you down so your beautiful soul can levitate to the realms you have never been to before. Happy birthday.
Read: Thank You Messages for Birthday Wishes
Birthday Message to a Beautiful Soul
1. It's your birthday and I hope the wheel of fortune stays in your favour for this coming year and the strokes of luck make your path ahead a smooth trail. Happy birthday.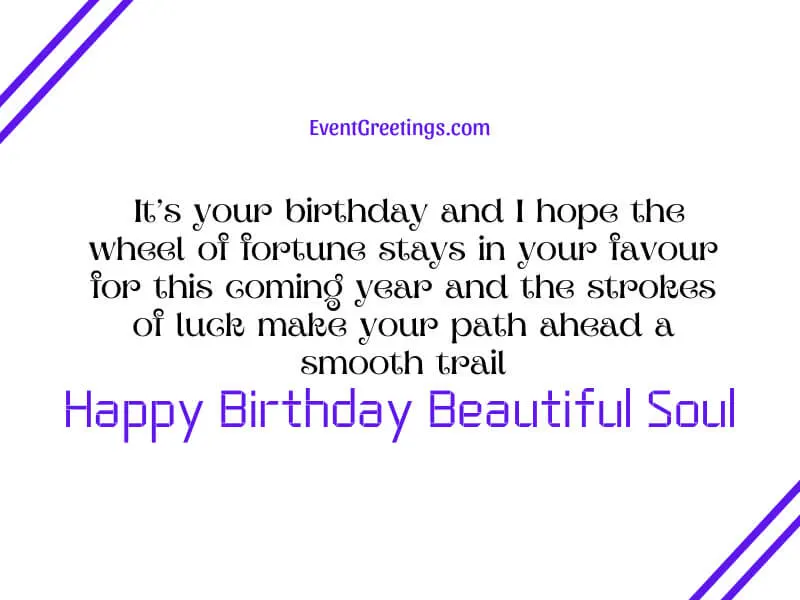 2. For such a beautiful soul you are, may all the blessings knock on your door to take away all of your burdens and set your soul free to dance in the fields of high spirits. Happy birthday.
3. To the person who has such a beautiful soul that simply by existing it illuminates the empty souls in the room and lifts the energy of the places, it walks in, happiest birthday.
4. Today your stars are willingly aligning to make your wishes come true. Don't let your mind hold you back from riding on to the cycle of dreams. Happy birthday.
5. Let yourself be the medium of peace amid the chaos. I wish you let your inner light shine through so bright that it guides the one among the dark clouds. Happy birthday.
6. Surrender to the divine and let the cosmos lead you to the land of your dreams and home. Happy birthday, with all the love and light.
7. I wish the only drama that takes place in your life be of the art, beauty, and nature to make everyday serene. I wish everything that's of the highest good for you, happy birthday.
8. For all the good deeds you have done, may God never let you long for home and help you find belonging everywhere you go. Happy birthday.
9. May this year you can escape the route of juggling and find the balance within to let your life take a stable route to lead you to serenity. Happy birthday.
10. I wish you get blessed with torrents of love and light to help you awaken to the world you've never been to put your beautiful soul on more fleek. Happy birthday.
Read More: Birthday Quotes For Someone Special
Beautiful Soul Inspirational Birthday Wishes
1. As the door to the new land opens for you today, may you walk on the paved path with grace and delight, happy birthday.
2. I hope all the wonders that lie within you find a gateway to burst into the world to be seen. Don't dim the light of your beautiful soul. Be the luminous you. Happy birthday.
3. Dive deep to find the treasure that lies deep within your soul. A beautiful soul like you carries the bundles of light to free the world from lurking murk. Keep forging ahead, happy birthday.
4. Your eyes show the beauty of your soul and tell the tales of a sprite. Never fail to be you, the world needs you. Happy birthday.
5. Bloom like wildflowers and groove as the daisies in the field. Sing your notes, dance to it, and the world will smile back at you like the sun on the field of daisies. Happy birthday.
Try: Birthday Wishes For A Beautiful Lady
Happiest Birthday to The Most Beautiful Soul
1. We all are made of stardust but you seem to have sprinkles of wonders and beauty that others don't. Happy birthday to the most beautiful soul I know.
2. You seem to carry around the potion of love and cast the spells of beauty all day long for the beauty your soul carries and the love you give is ineffable. Happy birthday, beautiful.
3. Happy birthday to the most beautiful soul I know. Souls-like you make the world an enchanted garden in which we all can dance under the shelter of love, thank you for being you.
4. May the helical of good cheer only whirl around you to make your beautiful soul swing among the clouds. Happy birthday!
5. May your beautiful soul heal and evolve into a being who can be a guide to all of us to show us the way of being. Happy birthday.
Read More: Short Birthday Wishes
These are the happy birthday to beautiful soul wishes that you can now send to the most magical being you know. Let these wishes tell them how heavenly their souls are. You wish them this way and they'll lock these words in their heart as you made their special day extremely special by reminding them of their beauty. And nothing can beat that.
To take them by surprise is to tell them from what lens you view them. And for them to know that you view them as a beautiful soul will be the best present.