Happy Birthday Son From Mom
1.My dear son, happy birthday! I'm blessed to have you as my child. You're the best son in the world. Love you, dear! Know that, you can always count on me as you're the most important part of my life. May God turn you into an honest and respected person!
2. For any mother, the best thing is to see her children's healthy growth. I'm so happy that you've successfully completed 10 years of your life. Congratulations dear! May you get all the love and happiness! Be very happy!
3. Today is the most special day for me. I became a mother on this day. Thank you for coming into my life and for fulfilling me. Happy birthday, my prince! I wish every day of your life brings you new reasons to smile.
4. Happy birthday, my lovely son! I'm so thankful to God that he send you as my son. You are the blessings for me and the reason for my happiness. Love you! Enjoy every moment of life!
5. The long-awaited day has come again. Happy birthday, my child! Know that, you'll always be my first priority and I'll support you for every good work. May no sorrows ever come to your life! Have a blissful life!
6. A years ago, on this day, an angel came into my life who've brought the light of happiness. Happy birthday, my love! May God keep you free from all evils and give you the eternal happiness!
7. Happy birthday, my son! You are my pride, my love, and my everything. Never feel alone in the way of your life because your mom will always be with you in every situation. Many blessings!
8. My little munchkin, happy 5th birthday! Today is yours. So eat a lot of candy, cakes and celebrate the day with your little friends. Enjoy every moment of your childhood because this most beautiful phase of life will never come again.
9. Finally, the long awaited has come. Welcome to the adulthood, my son! This is the stage of life with a lot of responsibilities. I know you'll be successful in every test of life. Always count on me. All the best for your life!
10. Happy birthday, my beloved son! You are the best son that any parents would like to have. You make us feel proud. May your desires are fulfilled and the happiness be your daily companion!
21st Birthday Quotes And wishes
Quotes From Mother To Son On His Birthday
11. Congratulations my son for entering the new year. Sometimes I think that I must have done something very good in life that God has rewarded me with you. Always be like this happy and cheerful! Good luck!
12. My prince, you were the dream that comes true. I can't imagine a day without you. My love, you'll always be at the top place of my heart. Celebrate this day with much joy! Best wishes!
13. Happy birthday, my naughty boy! You're the loveliest flower in the garden of my heart. I can do anything for your welfare. May God give you patience and make you a mature person! Have a blast on your birthday!
14. My adorable son, my best companion, happy birthday! Your smile gives me the eternal peace, your presence give me the unmeasurable happiness. May God enlighten the way of your life and make you the happiest person! Lots of love and affection for you, my child!
15. My baby boy, happy 1st birthday! I couldn't understand how 1 year has passed. May God give you many years of healthy life! Many blessings!
Birthday Wishes For Son From Mother
16. Today you've turned into 20, my son. Congratulations on entering a new phase of life. You may have to face many new challenges and difficulties in life but never break down. You'll always found me by your side to support you and I'm sure you'll successfully overcome all the difficulties. Have a wonderful life ahead!
17. Happy 10th birthday, dear! You're my love and my pride. Thanks for giving me the best 10- years of my life and hope to continue it. Don't forget to follow the right path and be an honest and virtuous man.
18. Today is one of the most important days of my life. Because on this day God has sent you in my life which is the best gift ever. Happy birthday, my son! May you grow up with dignity and have the strength to remove all the difficulty! My blessings are always with you.
19. My dear son, today you've entered the teen phase. Many congratulations to you! You can make this new stage beautiful with your good nature and behavior. Always try to follow the good examples and listen to the good advice. Best wishes to you! Have a memorable 13th birthday!
20. Happy birthday, my superhero! May you have a day full of surprises, blessings, gifts, and warm wishes! Have an enjoyable and adventurous life! Know that, you are always in my prayers.
Happy Birthday Wishes for Son in Law
Birthday Quotes For Son From Mom
21. Congratulations my son for completing the twentieth phase. You're now a grown-up man and I'm so happy to see your success. I wish you much peace, success, and wisdom. Many blessings!
22. Happy birthday, my dear son! Though you're a man now, for me you'll always be my little boy. Your smile is priceless to me. I'm so happy that you've become a great man with a big heart. May the intelligence, courage, joy, and success never be lack in your life!
23. The most handsome boy, happy birthday! You're growing up and I want to tell you that, grab the opportunity that life offers you every day. If you ever lose, never break down and fight again for your goal. Always have faith in God, he'll surely help you in every way. Best wishes!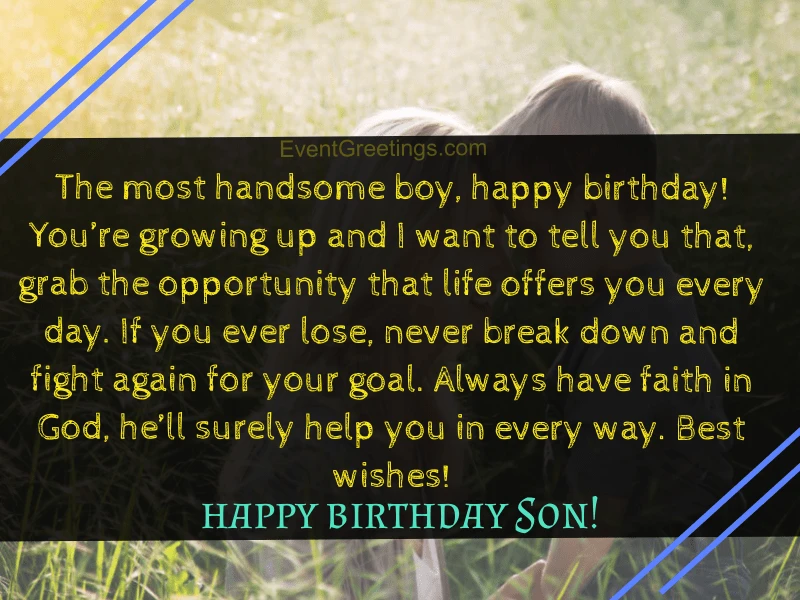 24. Happy birthday, lovely son! On this special day, I promise you that, I'll always listen to you, understand you and will try to guide you on the best path. My love and support will never be less. God bless you, my child!
25. Congratulations my son for another year of life! Whatever the situation, I will fight for you and love you forever. May this new year bring even more joy and hopes in your life! Have a lot of fun and enjoy every moment!
Birthday Wishes From Mom To Son
26. Happy birthday, my beloved son! I have loved you since you were in my womb. There's no word that can explain how much love I feel for you. My boy, always respect the elders and love the younger. May you become a noble and ideal man in the future! All the love and blessings for you.
27. My handsome prince, happy birthday! Love yourself and all the people around you. Always be thankful to God because of your existence in this beautiful earth. May you always surrounded by your loved ones and have a wonderful life! Best of luck, cutie!
28. Beloved son, happy birthday! You've completed the teenage years and become mature enough. There is more way to go. Remember that, always hold your head high and follow only the honest way. God surely has kept the good thing for your life. Have a blessed life
29. My dear son, today is a happy day because it's your birthday but I feel bad because for the first time you're far away from us on this day. Happy birthday! I wish I could hug you tight to congratulate you. May you continue making us feel proud like today! Receive my love, affection, and kisses. Miss you!
30. Congratulations my son, you're now in the adult phase. Happy 18th birthday! Learn more and try your best to gain your desired success. Never loss patient, courage, and hope and always focus on the goal. I know you'll surely win. All the best, dear!
Heartfelt Birthday Wishes for Son From Mother
31. I'm grateful to have a son whose heart is soft and kind and a mind that is stern and stable. To the rare gem, I'm proud to call my son, Happy Birthday.
32. Noone's daughter would question my parenting because my son would never give her the instance to do so. To my son who is filled with empathy and compassion, may divine's light protect you. Happy birthday.
33. Happy birthday, son. Being your mother has given me the pleasure I couldn't have received any other way but also the responsibilities I wish I could've escaped otherwise; just kidding. Have a great one.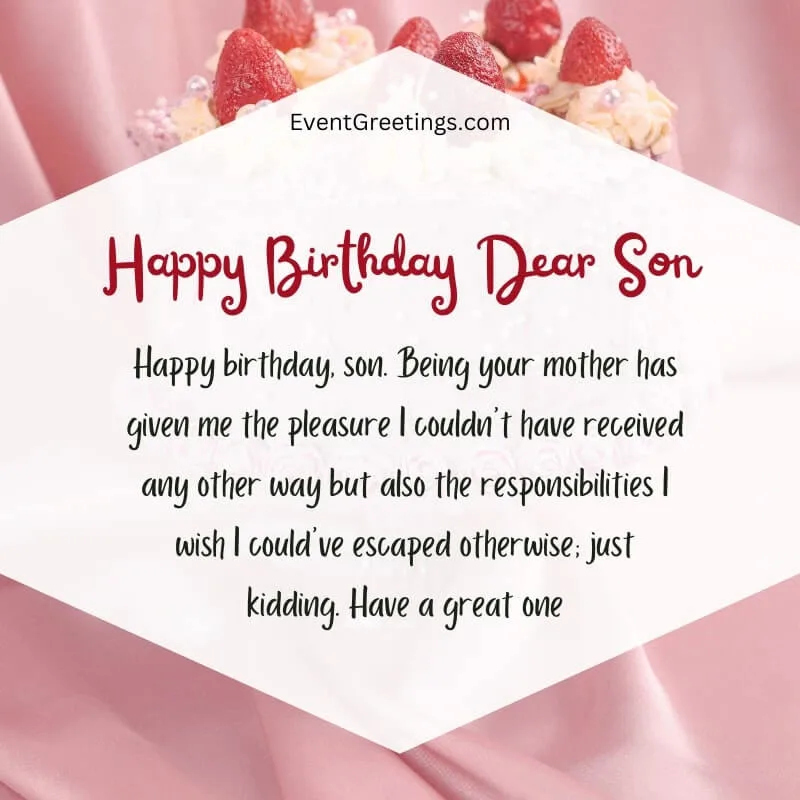 34. Happy birthday, son. I'm sorry if I've gotten on your nerves or embarrassed you but you shall remember that you started it first and continued walking down that route for years.
35. To my son, I'm so proud of the version you're moulding yourself into. It was a tough year for you but you came out to the other side, now celebrate it. Happy birthday.
36. I might blur the line from being the proud mother to the boastful one but then with your countless achievements, I can't keep my mouth shut. Happy birthday, son, so proud of you already.
37. Happy birthday, son. May you get to travel wherever you wish to and make friends that you can count on. My blessings are always with you to be your best version and do your best.
38. On your birthday, I wish you a joyous time ahead filled with pleasant surprises that make you believe in rainbows and sunshine again. Happy birthday son.
39. As you're turning ________ years old, the only words I want you to remember are: Rainy days don't last, don't get caught up in misery but sunshine doesn't last forever either. Happy birthday.
40. I received you as the best present from God and since then you've become the only treasure I cherish in my life. Happy birthday, son.