Happy Birthday Uncle
Happy birthday uncle! Aren't you honored to have the best niece ever to wish you on your birthday? I know that I would feel honored if I were you!
Happy birthday, uncle. I hope that this year, God will bless you with excellent health and fitness. Start jogging more to stay fit even when you're older!
You may be old in age, but you are definitely not old in mind. I hope that even with this birthday, you can stay young and youthful. Happy birthday!
You may have been the most playful monkey when you were younger, but it's time to take care of your body now that you're really getting old. Happy birthday!
It's difficult to choose a wish for you because I don't know how to best put the phrase, "Don't get old too fast now!" for your birthday. But hey, I said it. I hope you age well!
Aging isn't a kind process for many people, but you, my uncle, sure are the exception! I hope that your health will always be good with each passing birthday too! Happy birthday.
With this birthday, we celebrate God's graces and everything that He has in store for you. I hope that you can open your heart to let Him in. Happy birthday, uncle!
Your humor has always made family dinners so much more bearable. Happy birthday uncle, and I hope that you never lose that sense of humor!
Each birthday is special, and so is yours! I know that you have always been the one to cheer my mom / dad up every time she / he is angry. You need to teach me that skill one day. Happy birthday, uncle!
You may be just one uncle out of the long list of uncles that I have, but you are the one that treats me the best. And so, I wish you a happy, special and lovely birthday celebration!
Happy birthday uncle! Life has certainly been good to you so far, and I hope that your life will continue to be this fruitful and joyful!
If I had to choose another person as my immediate family member, it would be you! Happy birthday uncle, remember not to let your age get the better of you!
You have gone through plenty of ups and downs in life, and yet you still remained bright, optimistic and hopeful. Happy birthday uncle, and I hope that you will always be the bundle of joy that we love!
You never fail to make us laugh out loud with your jokes and actions. We love you uncle, happy birthday!
I might not be able to say much for other uncles, but one thing that I do know is that you have the youthful energy of a young teenager even at your current age, and that's amazing!
Short And Simple Birthday Wishes
Happy Birthday Uncle Images
I'm not exactly sure about the image of a birthday uncle I might have had in mind, but it surely isn't one that is so happy and eager to have his birthday cake! Happy birthday my dearest uncle!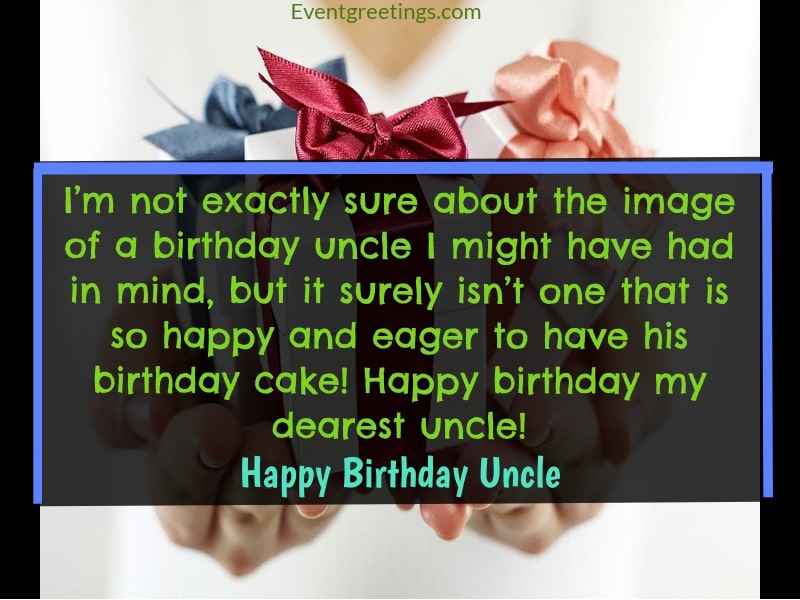 Happy birthday uncle! You have always felt like an amazing family friend to my siblings and me here, and so we wish you nothing but the best in everything you do!
Thank you for being an excellent listener, a good friend, and most of all, an awesome uncle to our family. We love you. Happy birthday!
For your birthday, I wish you good health, good spirits and that wealth will always come your way in your jobs. Happy birthday, uncle!
Happy birthday, uncle. I had many wishes in mind for you, and I simply couldn't pick just one! I just want to wish you the best in your life – health, wealth, self-care and the like.
You have guided me plenty when I was growing up, uncle. You were like a second dad to me! Happy birthday!
You're not just an uncle. You're my second father, my wellness coach and the awesome relative that brings chocolates over when my parents were too busy. Happy birthday!
Dear uncle, you were the sporty one that didn't mind playing games with your own children and me. You're the best! Happy birthday to you!
We wish that you will have an awesome birthday celebration for your special day – after all, a relative of ours that is so awesome really deserves nothing less!
Happy birthday, uncle! I'm so grateful to have an uncle that loves me like one of his own – your guidance and mentorship will always be appreciated!
Birthday Wishes For Uncle
Your joyful laughter and cheerful face are always contagious, bringing happiness to everyone around you. Happy birthday uncle, and God bless!
You have never failed to take us on wonderful journeys during our vacations. That makes you one of the coolest uncles around! Happy birthday uncle!
It's a little weird how you are my go-to person for advice, but I won't have it any other way. Thank you for being such an excellent counselor, uncle. Happy birthday!
With you as my uncle, I have learned that the most important superheroes walking the surface of earth can be just another average Joe. Happy birthday!
Thank you for all the times that you cheered me up when I was feeling low, and all the times you encouraged me for my studies. You're the best uncle. Happy birthday!
Birthday Quotes For Uncle
I thought and I thought, but I can never guess what it is that you might want for your birthday, so your birthday meal is on me. Happy birthday uncle!
Sending the best birthday wishes and warm hugs your way for your birthday, uncle. Happy birthday!
You are an amazing person, and we will always love having you around. Happy birthday uncle, and may this special day bring more blessings your way.
I hope that you will enjoy your birthday celebration as much as you can! You deserve nothing but the most wonderful parties. Happy birthday!
It's amazing how you still have time for us nephews and nieces even with your busy schedule. We thank you for that – Happy birthday!
Unique Happy Birthday Uncle – Wishesh And Quotes
I don't know if anyone ever told you, but you are an inspiration to my siblings and myself. You showed us how to be a good person in this harsh world, and we wish you a birthday with plenty of happiness!
I never thought that there would be a day when birthday wishes are not sufficient to express the amount of love that I have for you. Nevertheless, happy birthday,  dearest uncle. You're the best.
Happy birthday to the best uncle on Earth! I wish you years and years filled with love, joy and friendships. Have a great day celebration today!
May this special day marking your presence with us fill your heart and soul with so much love that it may burst. I hope that we'll always see that lovely smile on your face!
Sending you our happy wishes and love on your special day, uncle. We hope that you're going to achieve all the great things you told us about with your new business in this very year!
Happy birthday uncle, and thank you for all the wholesome memories that you made with us together.
I never thought that I'd have a favorite uncle, but here you are. Happy birthday, uncle, and I hope that you'll be healthy and happy always!
Happy birthday to the most fun uncle ever! You let me do things that dad won't, and I think I'll definitely have you to thank for an awesome childhood.
You may be relatively young for an uncle, but your wisdom and strength knows no bounds! I'm so glad that you're my uncle. Have a great birthday!
You inspired me to do better when I thought I won't be able to. Thank you for believing in me, uncle, and happy birthday!