Sometimes there is no act better than that of holding hands with the one you love and reading some holding hands quotes. The first time you hold someone's hand is a moment to remember; it is the beginning of something new and exciting. And as time passes, that hand becomes familiar that you can't begin to imagine a life without it. Some people believe that holding the hands of the person you love is the purest form of intimacy. Holding hands give you the strength to overcome everything in life because you know you have all the support you will ever need. Here are some beautiful holding hand quotes for your reading pleasure.
Holding Hands Quotes
As long as you hold my hands, I can conquer my inner demons, climb the highest mountains, and swim through the deepest ocean as you are my strength.
I feel complete when I hold your hand, your hands are like the last piece of the puzzle, and there is nothing in the world I could ever wish for.
When we held our hands, we made a promise to each other. A promise that we will never let go of each other, and whatever we go through, we'll always be there for each other.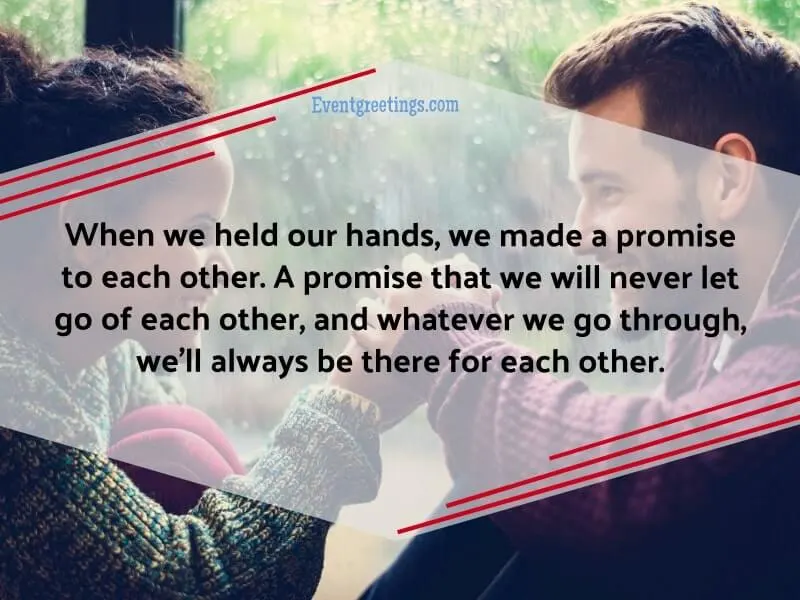 When I hold your hand, I can't describe the feeling in words. It's the happiest feeling I've ever felt. It's like I'm holding my dreams and also my world.
Once your hand is in mine; I never want to let you go. I want the moment to freeze, I wish the world just stops, and we can live in that moment forever.
Call me old-fashioned, but holding hands with you are the purest form of intimacy and is a huge deal for me. When we hold hands, you are also touching my soul.
When you hold my hand, I feel safe and loved. The warmth of your hand feels like home and gives me the feeling of nothing bad can ever hurt me.
The gap between my fingers is the perfect fit for yours. It is perfectly designed to intertwine with your fingers, and the gap fits perfectly when I hold your hand.
I'm not possessive, but I hold your hand because it's my way of saying that you belong to me and you are mine, and nothing can ever change the fact.
Holding your hand is the medicine for all my stress. When your hands are in mine, all the stress just vanishes like the dew when the sun shines.
Read: Love Quotes For Him
Hold my hand's quotes
Hold my hand and watch me conquer my deepest darkness. Watch me rise from my ashes and see me shine even in my darkest moment.
It's funny how I get butterflies whenever you hold my hands. My cheeks feel warm, and I blush like an idiot. You make me fall for you all over again by just holding my hands.
When I'm at my weakest, hold my hand so I can regain my strength. I can get through anything and everything as long as you hold my hand.
Hold my hand as I'm lost. Only you can save me from my darkness. Hold my hand and pull me back from here so I can feel everything again.
I'm not usually like this, but I want you to hold my hands till the end of time. I want to hold your hand till the end of time and beyond if it exists.
Also Read: Cute Paragraph For Him
Love holding hands
I'm a sucker for holding hands. I never lose an opportunity to hold yours. Whenever I get a chance to, I will unhesitatingly hold yours. I will always look for a chance to hold them and never let them go.
Being with you and holding your hands is the only thing I wish for. When I'm with you, the world seems perfect, and when we hold our hands, we are perfect.
Darling holds my hands and watch me conquer all my fears. Watch me be the best version of myself and take on the world with my confidence.
The best thing my hands have ever held in your hands. They are the perfect fit for the gaps in between my finger. My fingers crave yours when I'm not holding your hands.
If you promise to hold my hand forever, I promise never to let you go. I'll hold unto you till the end of times. We will always have each other through everything.
I love holding hands because it is a way of saying I love you without speaking any words. You feel the love and how much value you hold in my life just by a simple act of holding hands.
I don't know what the thing is about holding hands, but when our fingers are intertwined, it feels like I have achieved everything in my life.
Holding your hands is the best feeling I have ever felt. It's like holding everything you ever wish for to fit in your palm, and it's perfect.
When you put your hands in mine, it symbolizes that we have each other. We will never be alone, and we will get through thick and thin together.
Sometimes, all I ever want is to hold your hand and feel the warmth of your touch. It makes me happy that I have something that I can hold unto till the end of times.
Check: Romantic Good Morning Text To Your Crush
Take my hands quotes
Just take my hand, and we will conquer the world together. We will protect each other from evil, and nothing can stop us from living our best life.
If you ever feel like you have nothing to hold to, take my hand. I promise to be there whenever you need me. My hands will always be there to hold yours.
I wouldn't want you to fall for anything in life, so take my hand, and I'll hold you. I'll only let you fall for me and pull you away from anything that ever tries to pull you down.
I'm not needy, but now and then, I wish you would take my hand and show me the world. For when you hold my hand, I feel safe, and the world seems to be a beautiful place.
Take my hand, and we will go through the adventure of life together. We will share everything, every sorrow, and every happiness and make life worth living.