Nothing can be as devastating as losing a father, the guide of your life. How can one express the pain and sadness that comes with losing such an important figure in their life?
So, if you are seeking comfort or consolation for yourself or offering condolences to a friend, Loss of Father quotes can help communicate the emotions that come with loss.
Father is that being who'll walk with you in the shadow if you ever fall and need his hand to get back up. He never seems to be at the forefront of your life. But when you lose him, it's when all the roles he was playing quietly will make you realise how much he was in reality at the forefront of your life; void of his absence won't be filled by anyone.
In such a dreadful phase of your life, while your family and friends will be your support team, you on your own have a part to play.
These Loss of Father quotes will help you give yourself the empathy you need, process your emotions and heal them.
Loss Of Father Quotes
One of the biggest truths in this world is death but it's very difficult to say goodbye to the person you love. Your father is no more and I know no words can comfort your heart. All I can say that you'll always find me whenever you need. May your father's soul rest in peace!
Losing a loved one means losing a part of us. You are passing a difficult time because of your father's death and I know it'll be hard for you to overcome the pain. There's nothing that can repair the loss but it is necessary to continue living. May God help you to reduce your suffering!
I'm feeling that my life has covered with the gray clouds and there's no light of hope. Dad, without you, I don't know how I'll look for the sun that is missing in my day. This pain is immeasurable. Love you dad and miss you so much!
If I could bring anyone back to life, I would bring you back, dad. I still can't believe that you are no more it's an endless sadness that I can't be able to see you again. Rest in peace, dad!
You've always been my strength and the light of my life. Dad, now you've gone far away from me. Your death separated us physically but there's nothing that can take you out of my heart. I know you're watching me and will continue to love and bless me from heaven.
I feel so sorry for your loss. It's true that your father has gone to God but he'll be remembering you with love forever and you have to fight for your life to fulfill his dream. Don't give up, you have to stay strong. I'm always here to support you.
Heaven is celebrating today because it got the best gift ever. You were the best father, my best friend and everything to me. In all the times of joys and sadness, I'm going to miss you.
My world has become darker because you're gone to God. Father, I don't know how I'll live without your love and support. All I can do for you is to pray for the peace of your soul. You'll forever be remembered, my superman!
All the angels in heaven are surely feeling happy today because the most smiling person has gone there. You are not here with me, but I can feel you every moment. Your memories will remain alive in my heart forever.
The saddest thing for me is I can't touch you or hug you any more father. Your death took you to another world but it can never stop me from loving you. Miss you and I promise, I'll move on keeping you in my heart.
Sympathy Message For Loss Of Father
It's hard to lose the great hero of our life. You lost your father and there's no word to fade the pain. May God help you to calm your heart and give you strength! Take my heartfelt condolence!
I know the sadness of not having father by our side can't be explained. But it's the rule of nature that we all have to go one day. My sincere condolence for your loss. I hope time will heal the wound and bring peace in your heart again.
I feel so sorry about your father's death. I know how close you and your father was. There are thousands of reasons why you will never forget him. He'll continue to be living through your memory.
Your father has gone to another world but both of your souls are linked by love and he'll always live in your heart. The memory of the moments you both shared can never be erased.
I can imagine the pain you're feeling now. Just think about all the good memories with your father and this will help to take you forward.
We all know that death is a reality but still, it's tough to accept the fact of living without our loved one. I want you to know that I'm with you to help with every need. May God give peace to your father's soul!
No words can comfort you in this hour of deep suffering. Your father was one of the greatest people who always did well to everyone. May he rest in peace and God give you the strength to overcome this terrible loss!
I'm feeling so sad that your father is no more. Every difficulty seems so small in the face of this suffering. Take care of yourself and your family and let me know if you need anything.
Fathers are very important person in everyone's life and it's very difficult to deal with the loss of him. In this time of great pain, I just pray to God to give you patience and make you strong!
The death of a loved one gives the pain that no one can cure. Your father has left the world and I know you are having the hardest time. Just remember that though he's not with you, both of your hearts are connected and the love that unites you both will never die.
Words of Sympathy for Loss Of Father
I just wanted to let you know that I'm thinking of you as you mourn the loss of your father. In this difficult time, please remember that you are supported and lifted up by the love of your many friends.
A father can never be replaced. As you grieve the loss of your father, please know that you are in my thoughts. I wish you comfort, peace, and sweet memories of your dad in this sad time.
During this incredibly challenging time, please know that you are in my thoughts. Your father loved you very much and I know that his presence in your life will be greatly missed. I love you!
Words are insufficient in times like these. Yet I want you to know that I am thinking of you as you mourn the passing of your father. I am here for you if you need a friend to talk to or a shoulder to cry on. You are not alone!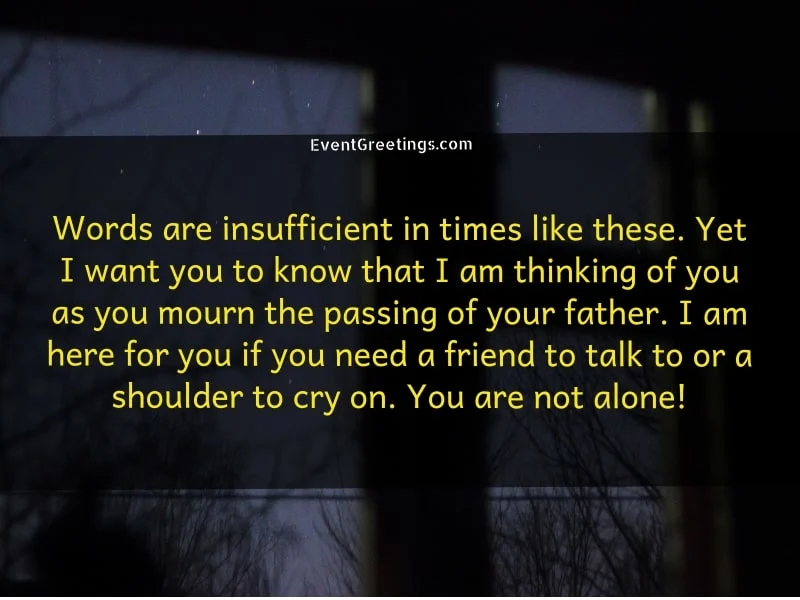 When I heard the news of your father, my heart broke. No one can truly know the pain you are experiencing right now, but the love and support of friends are never far off. Please let me know how I can be of service to you in this season of grief!
Condolences for Loss of Father
A dad is one of the most important people in our lives. When I learned of your father's passing, I was deeply saddened. Please know that I am thinking of you and your family in this difficult time. I love you very much!
When a child loses their father, it's one of the hardest things imaginable. Although no words can mend your hurt, I want you to know that I am here for you whatever you need. I know you were very close to your father and I'm so sorry to hear that you are suffering his loss.
Nothing can prepare you for the loss of your father. I can only imagine that you are heartbroken and grieving at this time. Please know that I am thinking of you and your family. I am available to talk or just listen when you are ready. I love you!
I was so sad to hear of your father's passing. I know you have countless beautiful memories with your dad. He taught you, guided you, and added such richness to your life. I pray that those memories give you some comfort in this sad time. I am thinking of you!
As your family navigates this very difficult season, please know that I am thinking of you. I know that the loss of a father can feel overwhelming. You are always in my thoughts and prayers. You can count on me if you need anything at all!
Comforting Words For Death of a Father
For many children, their father is their hero. I know that is true of you and your dad. Although he has passed, the time you shared together can never be stolen or diminished. I hope all the exciting, funny, adventures you had with your dad give you courage and strength in this sad time.
Dads do so much for us. They teach us to ride our bikes. They take us to baseball practice. As long as a person may live, there will never be anyone that can replace their dad. I was so very saddened to hear of your father's passing. I send my condolences and love to you and your family. And please remember, I'm here for you if you need anything at all!
At this moment, I know your dad would want you to know that you are loved and cherished. Although he is no longer with you, his spirit and memory live on in the beautiful soul you have become. I hope you know that I love you and I am here for you!
The love of a father is immeasurable and can never be matched. In this sad time, as you mourn his passing, I hope you are elevated by the profound love and adoration your father had for you. I love you!
In this time of sorrow, I hope that your father's delight in having you as a child brings you some peace. Your father loved you very much, and he will always be with you. Also, know that I love you, I am here for you, and whenever you are ready, I would love to talk.
Condolences Message for Loss of Father
You and your father were so close. I always loved the way you looked up to him, and the way he was so proud of you. Those bonds cannot be broken by someone's passing. I hope you feel the warmth of your father's love today and always. I love you!
When we're young, our dads seem invincible. Maybe that's why losing a father seems so unfair. You and your father had a special bond and nothing can ever cause it to bend or break. I hope you know I'm thinking of you and sending your love in your time of mourning.
Hearing about your father's passing broke my heart. I just wanted to say that I am so sorry for your loss and I am always here if you need a hug or a shoulder to cry on. I love you very much!
The closeness of a father to his child is a precious thing. When I heard of your father's passing, I wept for you. Please know that I am sending you warm thoughts of love, big hugs, and all my prayers. I love you!
The stories you tell about your father always make me laugh. And the love you have for each other has always inspired me and given me great joy. That's why I was so sad to hear of your father's passing. I know that your father is with you even now, extending his love. I hope that his love, and mine, give you strength and hope today.
He left this planet yet I know if ever in the gloominess of the dark forests I get lost; he'll grab my hand, show me the path as clear as daylight like he used to.
He lived a life following the rules of his guidebook and broke a few of them when his inner child was at play and set the best example for his kids to follow.
For all the ways of being he taught me, a part of him will be carried through the way I'm living. In coffin his body is but I carry around a part of his soul.
His principles weren't soul-biding. They were freeing. As long as I'm going on the paths he walked on, he'll be breathing life through me. His liberating soul will keep on liberating mine too.
He was a man of a steady mind, stern heart, and conscious soul. But had a childlike innocence. He taught me everything he could without teaching. Heaven now has my guardian and I, only memories.
My father, my only inspirational figure, is gone. While the grief is unbreakable, the comfort is in knowing that in some way or shape or form, he'll be the light guiding me.
Looking down upon us, he'll be partly relieved to have left daily family feuds and partly would be missing creating all of them; my jolly father delightfully left all his troublemaker symptoms in me.
My father was an angel. He came to earth to bless us with his divine light and angelic presence. He only left his second home to be at his first home.
Eternal love triumphs over time, space, and death. It has its own life. It'll survive from one universe to the multiverse. My father is in heaven yet I'm connected to him just like before.
I miss my father's physical presence. But have never felt his spiritual absence. Somewhere on the astral planes, we still meet and he still scolds me for being late to work; and I listen.