Personality Quotes
Personality is when thinking, behavior, character, attitude and feelings are combined. Everyone likes a good personality and every person also wants one. Good personality is very important if you want other people to like you. Having a better personality is very important for everyone. You can never build up your personality if you stop learning. We have a good collection of some personality quotes. You can use these personality quotes to tell your friends or any other person about their personality.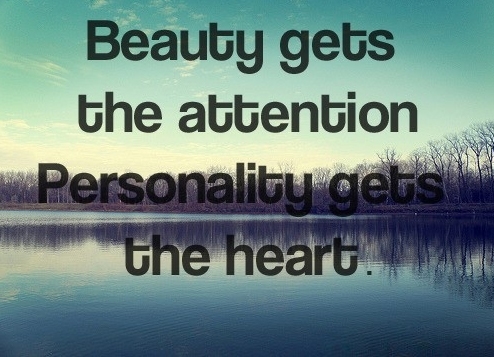 These personality quotes can also be used as suggestions for friends. Read these quotes and pick up your favorite one. Here is our collection of personality quotes.
Quotes About Personality
[divider]
Anyone can fall in love with your beautiful personality, your good looks will be a bonus.
[divider]
You attracted me by your good looks, but you made me stay with you by your beautiful personality.
[divider]
I have no attitude. I just have that kind of personality that everyone can't handle.
[divider]
Beauty of a person is temporary. But personality is permenant and lasts forever.
[divider]
I do not care about temporary and un-important things. Good looks are not important to me, but only the good personality is.
[divider]
I hate it when I meet a person with too good looks but having no personality at all.
[divider]
Good looks and beauty are things worth less care. Personality is something that must be there with beauty.
[divider]
Beauty and make-up are your plus points if you have very good personality.
[divider]
People with fake personality are nothing.
[divider]
God has not made anyone to be a copy of some other one. Live with the personality God gifted you and try to make it better.
[divider]
The personality of a man is most attractive thing.
[divider]
When you fall for their beauty, you get nothing. But when you fall for personality, everything about that person becomes beautiful.
[divider]
I don't hate people. But sometimes I have problems with their personalities.
[divider]
No she is not hottest. But her personality is something that got me.
[divider]
There is nothing to do with beautiful face if you have worst personality.
[divider]
Beauty of person attracts eyes, but good personality attracts heart.
[divider]
Guys date girl by looking at their looks. But a man will date a girl by looking at her personality.
[divider]
When I see anyone's personality come out, I like it because this is what they originally are.
[divider]
Good looks are beauty are not every thing. But if you are beautiful but you have no personality, you are not appealing.
[divider]
Good personality is not rare but you still need to find it out in a person.
[divider]
The only thing that makes me closer to you is your beautiful personality.
[divider]
Having a personality as yours is not less than a blessing.
[divider]
Strong Personality Quotes
Having a strong personality means you are never willing to submit yourself to society's mold! Be different, be unique, be your own person!
[divider]
Never let yourself be a product of your surroundings, but encourage your surroundings to be a product of your personality!
[divider]
Preserve the personality bits which make you stand out from the crowd! At one point in the future, your uniqueness will have the chance to shine and the world will become your creative playground!
[divider]
Don't sacrifice your intuition in order to follow society's patterns! Preserving your personality in a world full of copycats is the biggest trait you can always rely on!
[divider]
Having a personality doesn't mean you are weak or rebellious. It means you have the courage to live life in your own way and never have regrets about your chosen path!
[divider]
To meet one person is not a hard task, but meeting someone with a strong personality can show you that life is meant to be lived in accordance with your own rules!
[divider]
Whatever you do, make sure society and life never affect your glorious and shining personality! Keep your values high, and your true self-present at all times!
[divider]
Meeting people with no true personalities is exhausting!  Keep true to yourself and let your character shine in everything you do!
[divider]
Personalities may differ and be both pleasant and complex. But one thing is certain, having a strong personality is more important than having absolutely no sense of your own self! Stay unique and let your personality show!
[divider]
There is a big difference between having a personality and having an attitude. Your attitude is a response to society's challenges, but your personality is what helps you grow and stay your unique self!
[divider]
Your signature personality will forever detach you from being just like everyone else! Never let anyone interfere with the person you are on the inside!
[divider]
Trust yourself enough to never change, and make sure your personality shows in everything you do!
[divider]
Personality is every individual's signature trait. There will never be anyone like you, therefore hold on to what makes you so special as a person, a character, and a human being!
[divider]
Your personality will always show in the way you treat others, your surroundings and most importantly, yourself! Work on yourself daily, trust your qualities and never let anyone overshadow the person you are!
[divider]
Be the person you always wanted to be! Let go of the masks that hide the truth and the wonderful personality you have, and seize each day by being completely and honestly yourself!
[divider]
Personality Quotes
You may look fat or ugly, skinny or small. But it is not about your looks that can create an illusion to all. It is all about your personality that will steal the show and captures everyone's heart.
[divider]
You can change your getup by spending the money but can't change your personality. It's the inner thing that can't be bought.
[divider]
The personality of a person is the thing that shows how you look inside. Your lovely face is nothing if you have ugly personality.
[divider]
You may seem different from all. But uniqueness has its own attitude. So always be yourself and reflect it in your attitude and personality.
[divider]
It's not the beauty that express yourself but the personality that touches the heart.
[divider]
It's the duty of all parents to develop their kid's personality at the early age because this is what that will represent them and make them unique among the others.
[divider]
You can't judge any person depending on their wealth or sweet words, rather judge them according to their personality.
[divider]
"The personality of the individual can be tested by three things: business, wine and conversation." –  Jewish Phrases
[divider]
"The personality resembles a quality perfume: the one who uses it is the only one who does not feel it." – Gilbert Cesbron
[divider]
"Each man has three personalities: the one he exhibits, the one he has and the one he thinks he has." – Alphonse Karr
[divider]