The relationship between two siblings is always precious. Even though there are small moments of arguments and disagreements, they are always beside you to let you know how loved and cherished you are. A birthday is an occasion to celebrate and share the joy of life with family and friends. Let God's blessing brighten up your sister's life. Show your love and support for your lovely sister with some heartfelt religious quotes. Here are some religious birthday quotes for sisters:
Religious Birthday Wishes For Sister:
1. Thank you, God, for bringing my lovely sister and secret sharer. Hopefully, the Almighty gives you joy, good health, and success. Dear sister, happy birthday, and may you always have love in excess.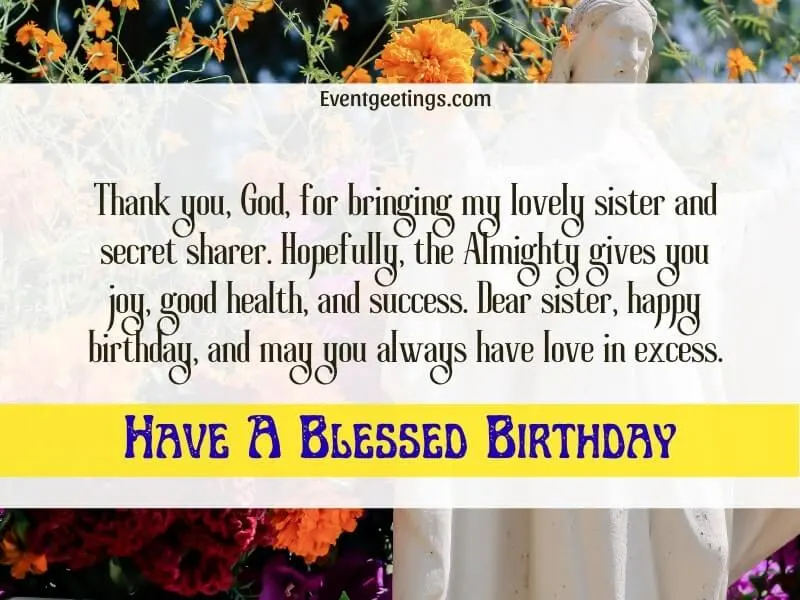 2. Happy birthday, dear sister. May the Lord give you the strength to explore your life with zeal and smile like a fighter. Remember, with you, Lord is always there.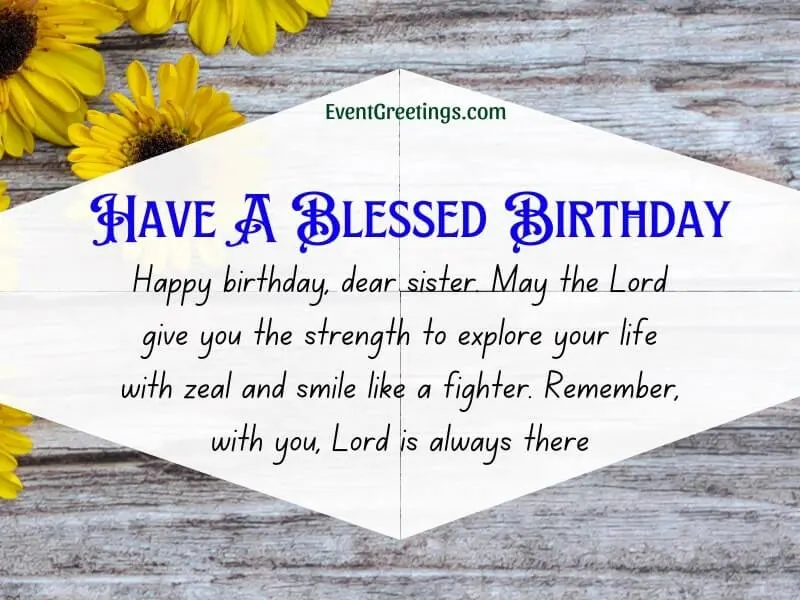 3. I still remember the day I first saw you. And I promised to protect you. I pray to God every day to guide you with his blessings. Happy birthday, sister, my darling.
4. Thank you for being my protector. You took care of me every time as my elder sister. I pray to the Lord to be the protector of my protector. Happy Birthday, sister.
5. I want to wake up on your birthdays and pull you in the tightest hug. May Lord save you from the bugs. Happy birthday, dear sister, may God grant your wishes and shower you with loads of love and kisses.
6. A birthday is a grand celebration of life. May God shower you with His blessings and protect you from all strife. Happy birthday, sister. When the Lord is near, never fear!
7. Lord's blessings are like the rain on the dried land that makes it green again. Hopefully, He enriches your soul with peace and happiness so that you can dazzle and be pure like the first drop of rain. Happy birthday, sissy. You are pure as the white lily.
8. I am a proud sister who always wants you to be happy and healthy. I wish the Almighty to shower you with His blessings for you to remain steady. Happy Birthday, sissy.
9. You are already a powerful warrior skilfully, achieving your dreams. I Hope Lord's blessings brighten up your path with His thoughtful schemes. Happy birthday, sister. Love you, dear.
10. I feel thankful every day to have a sister like you. May God answer all your prayers and find peace, whatever you do. Happy birthday, my dear sister. With love from your brother.
Read: 90 Birthday Wishes For Sister
Religious Birthday Messages For Sister
1. God loves those who love themselves, so never forget to love, cherish and protect yourself. Your presence is a blessing for us and few. Hopefully, I will spend more birthdays with you.
2. You grew up another year with God's grace and I hope all the happiness in the world you can embrace. God is ever forgiving. So, forgive and love yourself, darling.
3. Live a life of truth and kindness and always stay loyal to God. May you be bestowed by the light of the lord. Wishing you a happy birthday, dear, and never forget that I love you a lot.
4. May God bless you with all the success in the whole world, no matter how much hardship at you is hurled. May all your wishes come true. Happy birthday to you.
5. Always look for the brighter side of things, because the lord in every hard situation provides you with a silver lining. Wishing you the entire world's happiness on your birthday, sister. Love you, dear.
Try: 15 Cute Soul Sister Quotes
Religious Birthday Wishes For Sister-in-law
1. God has blessed me with a sister-in-law like you, whom you take care of me more than real sisters do. Thank you, dear, for being my friend. Happy birthday and I wished you before your husband.
2. Marriage ties are in the hand of the lord. You coming into my life makes me thank God. Happy birthday dear sister. I hope you are always very happy, dear.
3. Praying to God for your well-being is something that I do every day. May He protect you from everything in every way. Stay healthy and have a happy birthday.
4. Life is filled with hurdles, I know. But I hope God gives you the strength to overcome all these problems and grow. Wishing you a prosperous life. Happy birthday to my brother's wife.
5. God has created you with love so be confident with yourself because nothing is more important than loving oneself. So, love yourself and enjoy your birthday to the fullest. After all, you are the best.
Also Try: Birthday Wishes for Little Sister
Blessing Birthday Messages For Sister
1. I hope that all the people that keep you from being happy can disappear from your life and not make you feel crappy. Happy birthday to my dearest sister. You are the best, dear!
2. I know you are a strong and capable person, and I am proud of you, but still, if you ever need me, I will always come through. My lovely sister, happy birthday to you.
3. No matter what anyone says, always trust yourself in the future. You will see if you do so, your worries will get fewer in number. Many, many, happy returns of the day, my dear sister.
4. You have always been my favorite person in the world no matter where you are, I will always be concerned about you. Have a precious life ahead, and wishing a happy birthday to you.
5. I hope you achieve everything you ever desire. I am always ready to provide you with everything you ever require. Wishing you many, many happy returns of the day. Happy birthday.
Take A Look: Religious Birthday Wishes And Messages
Every day is special with your sister, and you may feel the warmth of your bond every moment. Just like a simple hug or small gesture from them makes you feel loved, show them how much they mean to you with your words. Make their birthday special with religious birthday wishes for sisters.