Afternoons can bring sunny serenity or a panda slump. If in either case, you're clueless as to what to say to her then here are some good afternoon messages for her that you can save and send her every noon. Either it'll kick her noon slump out of the door or else it will make her noon romantic. In either case, it's your win.
This set comprises romantic, flirty and thoughtful messages hence you can save them all and then use them according to your day, mood and taste.
As always you can personalize these messages and give your swirl to them to make them more special and heart-warming. Without any further, dive into them.
Romantic Good Afternoon Messages For Her
#1. The melodies of this afternoon will remind you how much I love you if you simply take a moment and think about all the wonderful times we've spent together. Good afternoon.
#2. Only if afternoon naps won't make me wake up thinking about you, I'd be having a relaxing time! But now I'm restless to meet you!
#3. Good afternoon. As much as I love you to be in my thoughts, honey, you're not letting me work! On the other hand, I like being distracted by the prettiest woman I know!
#4. Good afternoon, honey! As this is midday, I love you to the sun and back. Have a great day ahead.
#5. The map to my heart is no secret now, at least, to you! The gateway of love you've opened since then for both of us and I wish to stay caught there forever. Good afternoon!
Read: Good Evening Quotes And Wishes
Flirty Good Afternoon Texts For Her
#1. It's usually quiet in the afternoon however this quiet would've been less depressing if you were here with me; it would've been then indeed a sunny day! Good afternoon.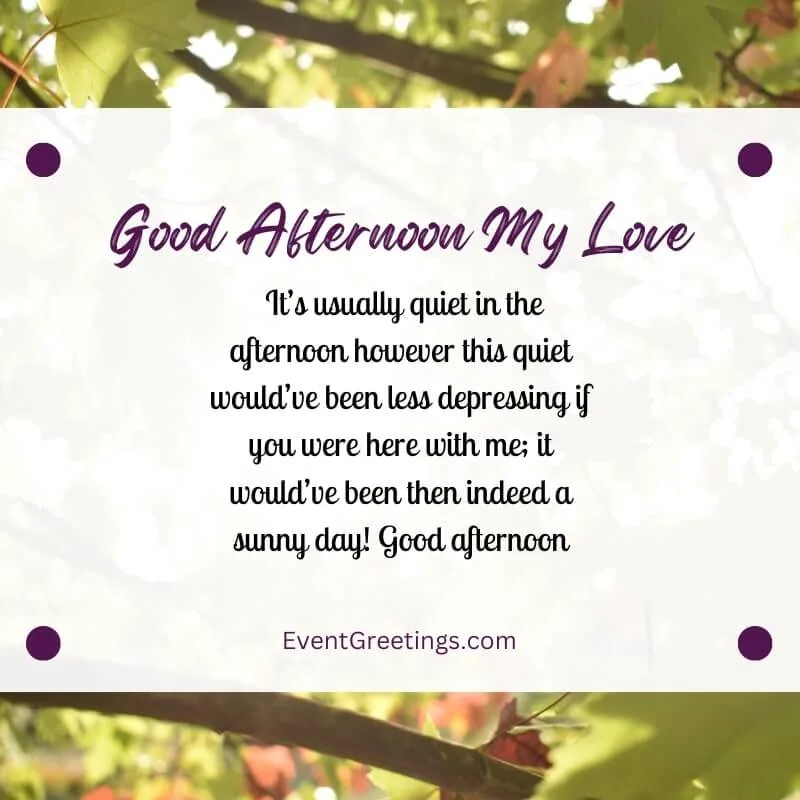 #2. Until I don't meet you, it is never a good day. However, with the hope to see you laugh at my silly jokes, my day will pass fairly well. Good afternoon.
#3. This burning hot sun can't give me hope right now but you know what does? Thought of coming to you by the end of the day; you're my light at the end of the tunnel.
#4. Without you, the day is always meh. With you, it's always something extraordinary. You're the glimmering sun in my life that stays with me even in the darkest times. Good afternoon.
#5. Good afternoon. Here is the reminder from the man who holds you closest to his heart and thinks very highly of you that you're very lovable and precious.
Read More: Good Morning Text For Her
Long Romantic Good Afternoon Message For Her
#1. Good afternoon! You're one of those precious beings whose presence does make the world a better place. And I'm such a fortunate man to be able to hold your hands, be closest to you, and make you feel cherished and loved as you should be. Thank you for being the cherry on top of my everything and life. Have a delightful day ahead.
#2. Good noon, honey! To all the love you carry, I'm the drop in the ocean. I'll give you everything I can and yet compare to your kind, compassionate, and boundless love, my love will be the drop in the ocean. You're the reason I can believe that I might be the chosen one. Thank you for being my light. Have a soothing day ahead.
#3. The afternoon breeze humbles me. It reminds me that I'm still the self-conscious nothingness juggling my way through life. But the warmth is in the thought that I have a loving, affectionate, and thoughtful woman by my side with whom I can share this nothingness and maybe make something whole! Have a serene day ahead.
#4. Good afternoon! Like the roses in the garden, you make me stop by and take a minute to adore your beauty, to be thankful to the creator who made you, to admire one of his finest art pieces, to simply be in awe of you! Afternoons invite me to do that and hence it's my favourite time of the day.
#5. It's a wonderful afternoon to take a minute and adore the way you care for every little thing and being. I'm truly in love with the way you love. The way you show me the way to love and kindness from time to time is the greatest gift I've received from the lord. And I'll be forever grateful for it. Have the best day ahead.
Funny Good Afternoon Messages For Her
#1. Afternoons are boring and it might not be the easiest task for you to make it pleasant considering you're no fun either but hang in there till you meet the funniest man you know; me!
#2. I thought for a moment that I had the lowest tolerance for the afternoon slump but then I thought of you and suddenly noon seems like dawn. Good afternoon.
#3. Thank God afternoons aren't that long otherwise I would die out of boredom and slump. God is kind after all!
#4. After everything we've been through, please take a minute and be thankful that I'm with you, ALIVE!
We're blessed truly. Good noon.
#5. Babe, the afternoon is my time to be cranky and moody. Don't take it away from me. You can be angry at me at some other time.
Good Afternoon Message For Her Long Distance Relationship
#1. Good afternoon. The long distance feels like the LONG distance more on lonely, tiresome, and sluggish afternoons like these. I miss you more today.
#2. Only if you were not miles away, we'd be reading books while drinking coffee to beat the afternoon slump and I wouldn't be feeling like a sloth! Good noon!
#3. Good afternoon! Sending my love from the miles to take away the pain to keep on working even when deep down you wish to take a vacation with me. Stay strong girl.
#4. Good noon! Kudos to us for being the couple who despite the long-distance is willing to make the relationship work! Despite the turbulence, we're always wishing and hoping to move forward.
#5. Honey, I hope your daydreams are adorable and that if not always, most times, I find myself wandering in your dream palace. I'll be there in no time, take care, and good noon.
From the above-mentioned good afternoon messages for her, save the ones that call you the most or you find resonance with. You're doing such a wonderful job by keeping her on her toes and truly going the extra mile.
These were all the good afternoon messages for her we had in the store for you. As now you have all the messages in store, we doubt if she will ever have a dull afternoon. We appreciate your efforts in making her afternoon filled with rainbows and she will very much appreciate it. Cheers to all the sunny, chill, and romantic afternoons you two are going to have. More cheers for your efforts to make it happen for her and yourself.