Are you looking for some sweet and romantic good night quotes to show your man how much you love him before he goes to bed? Then you are in the right place.
After a tiresome day, a good meal and a wholesome message from your loved one can take away your blues and exhaustion. If, fortunately, you're in a loving relationship and he is the one who, without a miss, sends you exceptional good night messages then it's time that you start doing the same for him and make him feel precious. In fact, by sending these romantic and poetic good night quotes for him; you'll make him feel exceptionally good.
These aren't your ordinary good night messages. Whether you wish to give him a pep talk, make him miss you more, or else simply provide comfort and warmth through a bunch of words; these quotes will come in handy.
Good Night Messages For Him From the Heart
1. Someday, gazing at the gleaming moon and twirling stars can make me fall asleep, but most days, the stupid romantic scenarios I create in my head with you help me fall asleep.
2. As the chatter of the day wane, and the quiet of the night takes place; thoughts of you get louder. Good night, honey.
3. The dreams are sweeter if I have you there. This bed sheet is colder when I don't have you beside me. Your absence and presence in my mind and heart are striking. Good night.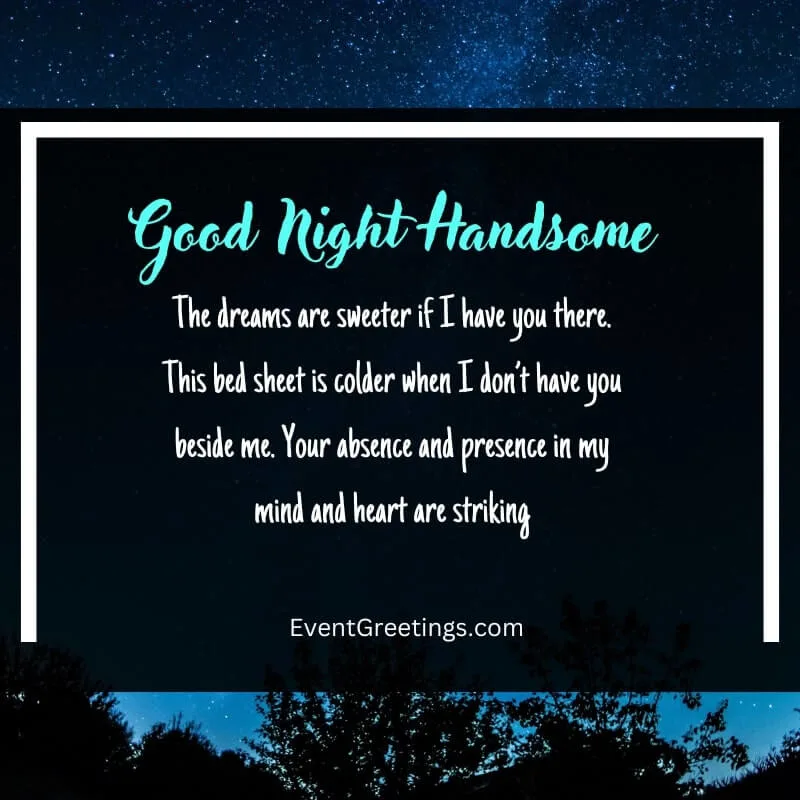 4. This is a reminder that you're a very special being in my life and I love you more than you can imagine. One favor I ask from you is never to doubt it. Good night.
5. They say eyes don't lie and I believe them because when you look at me, your eyes speak of the love you sometimes are too afraid to speak of or claim. Good night.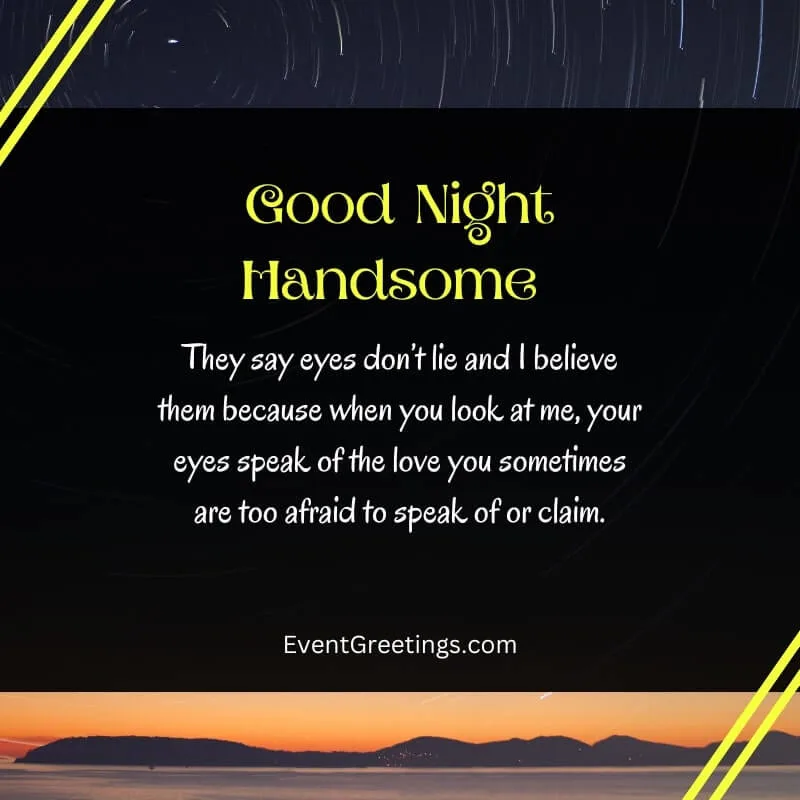 6. I wish you a good night's sleep that can help you feel re-energised the next day you wake up. Sleep like a baby so you can wake up to the most delightful morning. Good night.
7. Let this be a sweet reminder to turn off your hustle and survival mode. Allow yourself to take rest and rejuvenate. Good night.
8. Have a restful sleep with a peaceful mind. I wish I was there to be the big spoon for you so you could even sleep tight; I'm manifesting it. But for now, good night.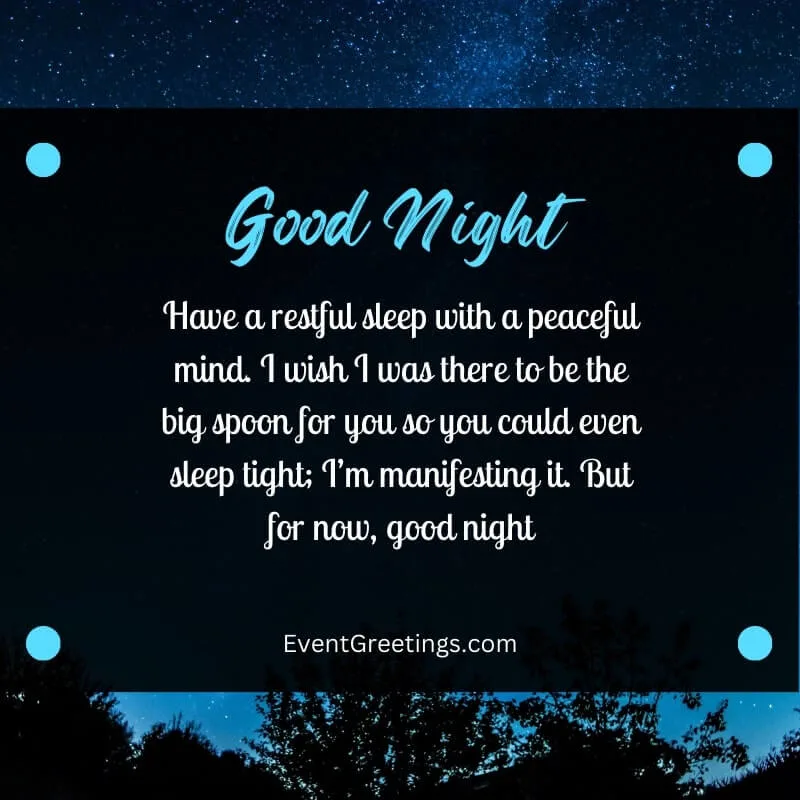 9. The best is yet to come. And if my words don't make you believe it, the dawn tomorrow will, with its rays of hope; for now, make peace with everything and sleep tight. Good night.
10. To my man, who has shown me the beautiful, emotional and sensitive side of being a man; I'm so grateful to have you and for the fact that you love me! I'm blessed. Good night.
Read: Good Night Prayer Quotes
Good Night Quotes For Him
11. I believe that the moon shines just for us, and every night it illuminates the road towards our successful future together. Good night dear!
12. Good night and sleep tight, my better half, know this that I love you more than anyone in this whole wide world, and I will always continue to love you, no matter what.
13. I have prayed to God to be with you, and now that you here, I will never let you go. So, don't worry if you have nightmares, I will be by your side, forever, good night!
14. We have a big day tomorrow, so it is important to get a good night's rest. Good night, dear boyfriend, I hope we always be like this, mad for each other
15. The best part about returning home from work every night is to be able to see your beautiful face as I fall asleep. Good night, dear husband
16. I want to thank you for being there by my side when I needed you the most. You are obviously the best husband a wife could ask for. Good night dear!
17. Every moment without you is agony, and I sincerely hope to be able to return to your arms soon enough. Good night, dear boyfriend.
18. You have had a rough day today, dear. Have something to eat, and let's go to sleep early. A tired body needs rest to perform optimally, good night, dear! Sleep tight and cozy.
19. You are the sun in my life, always shining bright and full, illuminating my life's path before me. Let me be your moon, tonight, good night, my dear boyfriend.
20. Good night dear! I sincerely hope that you dream about me the same way I dream about you every night.
21. I just wanted to say that my heart beats for you exclusively and that I love you more than love itself. Good night my handsome prince in shining armor!
22. Lying beside you and watching TV is one of the best things that I like to do and before I doze off in your arms, I just want to say, good night dear boyfriend
23. If life is a movie, then you are the hero to my heroine, and I will fast forward and live only those parts where we are together. Good night, my dear!
24. You are like an angel who lulls me to sleep every night with his smooth, silky voice. Good night dear, and I hope to be able to sleep to your voice every night of my life
25. A good night's sleep is important to enjoy the oncoming day, and it becomes more enjoyable if the night is spent with your loved one. Good night dear, a wonderful day awaits us tomorrow
Romantic Good Night Messages For Girlfriend
Good Night Text For Him
26. We are poles apart right now, but all I can do is to look at the moon and think of you. Please accept this good night text from me with all the love and hugs in the world
27. I cannot wait for morning to come so that we can again chat together on text, but as the night is late, with this good night text, I send you all my love for you. Have some rest now
28. This good night text is all the more eventful because today is our anniversary together. I hope this text becomes the epitome of our love for each other
29. You are the sun to my earth; my whole life revolves around my handsome and sensible hubby. Good night dear, may you rest easy for the challenges of tomorrow
30. You are the whole universe in a nutshell for me. Your eyes are the stars that illuminate my whole life. Good night my dear, sleep well for you have a big day tomorrow
31. This text is a medicine that relieves all stress and induces sweet dreams, and according to your lover, the recommended dosage is once every few hours. Good night dear!
32. Out of the billions of people of the world who are either going to sleep or waking up, this message reached you, isn't it amazing? Why? Because I love you.
33. My love and care for you to increase with each passing day to the point where I cannot measure it anymore. I cannot wait for tomorrow morning to love you more; I hope you love me just as much
34. Let this good night text act as a blanket and warm fuzzy pillow for you, from your only wife who loves you a lot. Have a comfortable night's sleep dear
35. Every time I close my eyes, I see us together, enjoying. This text hence represents both how much I love you and how much I miss you together
36. Our love is intense as the sun but also soothing like the moon and nurturing like the earth. This text is a small representation of that, good night husband!
37. I dream of building a future, no an empire with you, and we both need to show our love and support for each other if we are to achieve that. And on lonely nights like these, I will never let you feel alone for once
38. This simple yet effective good night text is a reminder of how much you mean to me on a personal level. I love you, dear boyfriend, may we spend our whole lives loving each other like this.
39. You are the light to my darkness, the sweetness to my salt, the ocean to my land- opposites attract, and that is why we are a great couple, won't you agree? Good night and don't let the bed bugs bite!
40. This good night text is like the cool breeze that cools the body or the sweet spring water that quenches the soul, this text is for our love for each other. Good night, dear husband.
Good Night Message For Him
41. I hope this message finds the receiver in good health and lets him know that he is the best boyfriend ever! Good night, my love, sleep tight and sweet dreams
42. You are my superman, batman, spiderman all rolled into one, you are my white knight. Loads of hugs and kisses from your princess charming, good night and sleep tight, my love
43. Being away from you has made me realize the importance of being together, and I have to suffice with a simple good night message. Looking forward to the time we can be together
44. I was waiting for your message on how much you love me, and now that you have professed your love for me, I can bid you good night and go to sleep peacefully
45. Let this good night message be a testimony for my eternal love for you. Always remember that I love you more, my dear boyfriend.
46. As the hustle and bustle of the evening drains down and night lulls everyone to sleep, I hope this message finds you in good health and always remember, I love you no matter what
47. Please open the message to find the following- a love you from your dear wife, a good night kiss for the sweetest dreams and a warm hug to overcome all your difficulties in life
48. The thought of being with you tomorrow is what gives me the strength to face challenges. Thank you, my dear boyfriend, for staying with me all these years. Good night, honey!
49. All-day, I long to sleep by your side, and this message is striving to prove that same point. I can't wait to be with you, good night dear and loads of love from my side to you
50. You should smile more; you look good in it. I sincerely hope this message makes you smile, as I hate to see you sad. Good night, dear husband, may we meet soon enough.
Read More: Good Night My Love – Messages And Quotes
Flirty Good Night Quotes For Him
51. For a woman as dramatic and as restless as me, I needed a quiet, soft-spoken, and a take-it-easy-guy like you and knowing I have you, I can sleep peacefully. good night.
52. Tomorrow you'll do better. Maybe tomorrow, you'll upgrade to 9.1 from 9.0 but tonight, let yourself be out of the horizons of worry and stress and sleep tight. Good night.
53. Who needs a space machine when one has a man like you who makes me go to places of wonder and stardust anyways; I'm so grateful to have you. Good night, sweet dreams.
54. I want you to remember you're the coolest and calmest man I know, oh and the strongest one, otherwise, no one got the nerves to handle the crazy woman in me. Good night.
55. The shimmering, glimmering moonlight, the dazzling stars, and the nighttime mysterious creatures are making my night delightful but you're missing. It's a misfortune I can't comprehend.