Know someone who is about to celebrate their diamond jubilee and don't know the right words to express how special they are? Worry not as we've got you covered with these happy 75th birthday quotes for your dearest ones to make their celebration even more memorable. Here are 25 sweet and unique ways to say Happy birthday to your loved one who is celebrating the 75th year in this world with a beautiful smile! Whether it is your mom, dad, grandma, or grandpa, these wishes will bring a genuine smile to their face.
Happy 75th Birthday
May this year be as blissful and exciting as the past 74 years of your life. As each year passes you grow younger. Happy 75th birthday to you!
All these years you've spent on this earth, you've not only achieved success in life but an irreplaceable spot in everyone's lives too. Now that's a way to live! Happy 75th to you.
Each passing year is an indication of wisdom you've gained and experiences you've added to your Lifebook. You're a treasure for all of us. Here's to another 75!
This year, on your 75th birthday I send you warm wishes, hugs, and kisses for all the love you've given me. it's always a pleasure to have you around. Thank you for being in my life.
Having you in my life has been the best thing, to have someone wise like you to guide me at every step of my life is nothing but a blessing. Happy 75th Birthday.
You're the pillar holding this family together and your presence is what makes our lives ecstatic and impacted our lives with your wisdom only to be better. Happy birthday.
Wear this New Year like a badge, being around for 75 years is no joke and you have lived it with so much grace and dignity. You're an inspiration to look up to.
Seven and a half decades you've been around, you've touched so many lives including mine. May God bless you with health, happiness, and long life. Happy birthday my dear.
You've aged like a fine wine, each year increasing your worthwhile you grow more and more savory adding flavor to every life you touch. Have a great 75th birthday.
As you've turn 75 today, I wasn't to thank the Lord for blessing our lives with your presence. It's a special day that not all live to see. You've made it to the diamond jubilee, my friend.
Read: Happy 50th birthday wishes
Happy 75th Birthday With Images:
Another year to live, love and enjoy the precious life God has so graciously given you. 75 is another milestone of your existence. Have a wonderful birthday.
Thank you for being a part of my life as you've taught me to never give up and be a person of my own. Your encouragement has only pushed me further toward my goals. Happy 75th Birthday.
I've learned so much from you through all the years I've known you. It's been a pleasure to be acquainted with someone of your intellectual. Loads of love and prayers for your 75th birthday.
Even at 75, you're still younger and livelier than many youngsters. You've mastered the art of living and influenced others to be like you. May God be with you now and forever.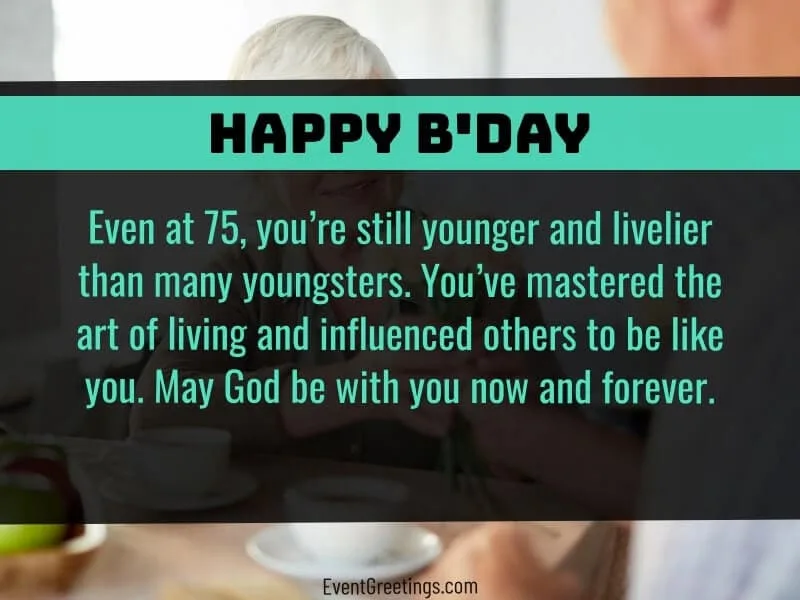 Today we celebrate the amazing life you've lived for 75 years with so much dignity and honor. I'm so proud to be a part of your wonderful life. Happy 75th, Rockstar.
Check: Happy 40th Birthday Quotes And Wishes
Happy 75th Birthday Mom Wishes:
Thank you for being born and taking care of our family so selflessly. Can't ever say thank you enough for all you've done for us. Happy birthday, mom.
I wish there were enough words to express your importance in my life. From the day I was born till now, you are and always will be my go-to person, my happy place my refuge. Happy 75th Birthday Mom!
On your 75th birthday, I take this moment to thank God for sending His best angel to be called my mama. No one can love me as you do.
Happy 75th birthday to the world's best mom. I just want to tell you how much I appreciate your love and support. Your hugs are still the most comforting. Love you,mom!
Whatever I am today, whatever I've achieved is because of you. I'm so glad that I can call you my mama. Thank you for being my strength. Thank you for being born!
Try: Thank You Messages for Birthday Wishes
Happy 75th Birthday Dad Wishes:
All the sacrifices that you've made to give us a better life and for all your unconditional love, I say thank you for being the best dad anyone could ever have. Happy birthday, dear father!
All my life you've protected me, guided me and looked after me without asking anything in return. I wish there was a way to pay you back for all that you've done for me. Happy 75th, dad.
On your 75thbirthday, I just want to say that there never was and never will be a guy who will love me the way you do, dad. I wish every daughter to be blessed with a father like you.
Your name next to mine has what made my identity and I'm so proud to be known as your kid. May God bless you with long life and health and all your heart's desires. Happy birthday!
Happy 75thbirthday to your dad. You've done the best you could for us, thank you for holding me up when I was down, thank you for all the little and big things you've done. Loads of love and prayers.