Wishing a happy birthday to my firstborn daughter is significant because no matter what, firstborns always hold a special place in each parent's heart.
It does not mean that we do not love our other kids. But it just means the first ones give birth to their parents. They are like our little miracles who lightened up our worlds with the bliss of parenthood for the first time. Sending wishes to such an important person on this special day is an important thing to do.
So, let us use words that directly come from our hearts to send to our firstborn daughters these heartfelt birthday messages. So, they realize their importance in their parent's life, even if they scold them occasionally.
Happy Birthday To My Firstborn Daughter
#1. I hope you get all the happiness and overcome all the sadness without fear. Happy birthday, dear. Enjoy the because you have healthily survived the first year.
#2. No matter what you do, I always want you to be happy. I will always love you, even if you call me sappy. Have an excellent birthday, my baby.
#3. You were the very first miracle of my life, and I was truly blessed. Your birth still seems to make me all dazed. Always be happy and enjoy your birthday, baby.
#4. Many happy returns of this beautiful day, my beautiful daughter. May you spend all your days with lots of love and laughter.
#5. May you have a very long, happy, and healthy life ahead. Do not forget to eat healthy and on time go to bed. Happiest birthday to my dearest daughter, and I am proud you are self-made.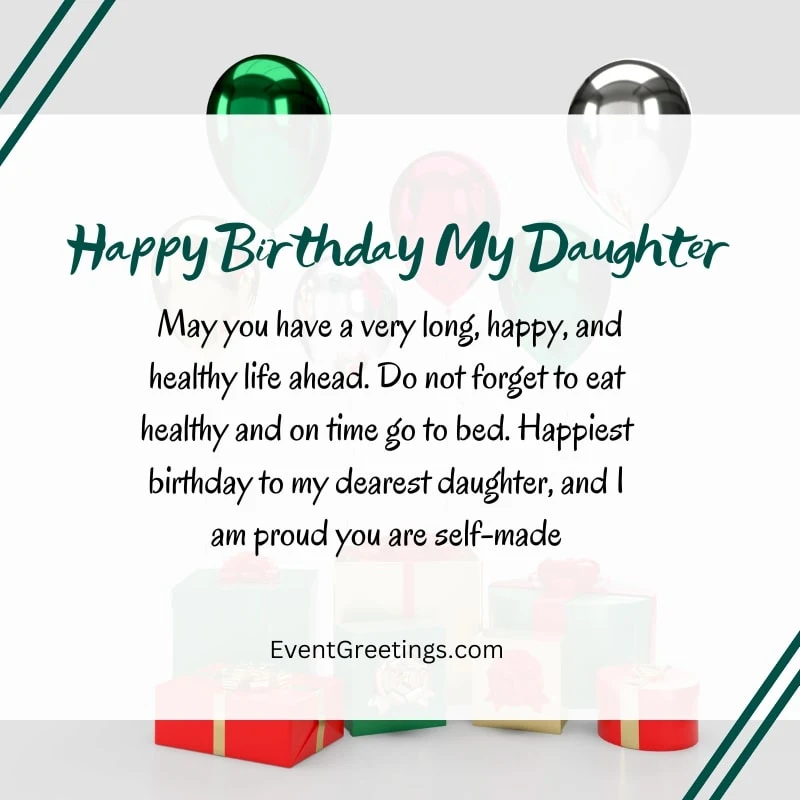 #6. I am very proud of the independent woman that you have grown up to be. I hope you have a good life while being content and happy. Celebrate your birthday joyfully.
#7. Always know that no matter what, we are always here for you. We will support you with everything that you want to do. I wish my firstborn lady the happiest birthday, my baby.
#8. As our firstborn daughter, you will always have a special place in our hearts. The love and affection we feel for you are immeasurable from the start. Happy birthday, our sweetheart.
#9. I hope you get to fulfill all your dreams, no matter how small they are. Always know that in our galaxy, you are the brightest star. Happy birthday, always be jolly because you are our firstborn daughter.
#10. My fondest memory is the first ever moment I saw you. The kind of love and excitement was very new. I hope you are enjoying the most precious day. Happy birthday.
Related: Happy Birthday Wishes For 1 Year Old Daughter
Happy Birthday To My First-born Daughter From Mom
#1. I hope you know how precious and crucial you are to me. I became a mom for the first time, my sweet pea. Have a beautiful birthday, sweetie.
#2. Always choose the path that makes you happy, and Mum will always support you, even when we know that things can be scary when they are new. You are my firstborn, so I will always sing the happy birthday song for you.
#3. You have never disappointed me since you were a baby. I am so proud you have grown up to be such a beautiful lady. Happy birthday, and I know you do not like it, but I will still call you a baby.
#4. You changed my life for the better after you came into it. I never knew such a tiny baby could throw such tantrums before she decided to eat. Have a great birthday, my gorgeous lady.
#5. No matter what goes wrong around you, always know that Mum is always with you. People who will stick around with you during hard times are very few. Let me wish a fantastic birthday to you.
#6. I never knew such a small bundle could bring such joy in my this life. Mum would do anything for you, even take a knife. Mum loves you, my firstborn baby, and happy birthday to my dearest lady.
#7. Mum will always love you, every second, each day. Always try to be mum's little fearless pumpkin and happy birthday.
#8. Always remember after every tough day, a new day with lots of opportunities awaits you. Start the next day anew. My firstborn lady, let me wish you a happy birthday, sweetie.
#9. Never give up on your dreams, no matter how hard they are to achieve. They are worth the hard work you need to give. Happiest birthday, dear lady. Enjoy your day with your firstborn baby.
#10. Mum will always love you from the bottom of my soul. Without you, my life would be like a black hole. Love you, and happy birthday, my darling girl. You are my firstborn child, so you are special.
See: Birthday Wishes For Daughter From Mom
Happy Birthday To My Firstborn Daughter From Dad
#1. To my firstborn princess, I wish you a joyous birthday with fun and laughter. Your dad wishes many happy returns of the day, dear.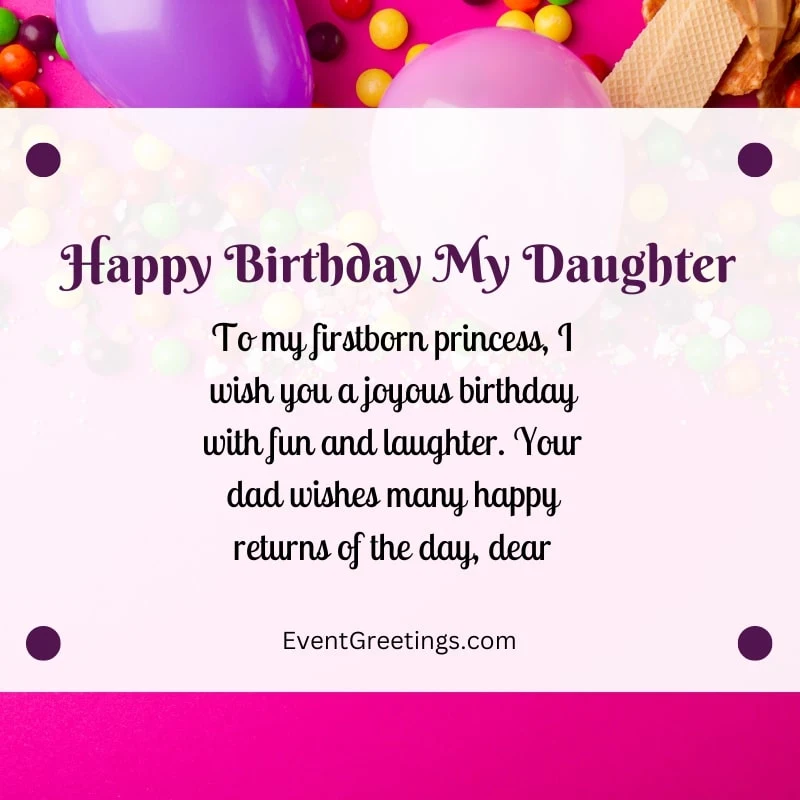 #2. Thank you, my firstborn daughter, because you made me realize the meaning of fatherhood. I cared for you and tried to keep you in a good mood. Happy birthday, and may the Almighty shower blessings on you on this special day!
#3. I remember, some years ago, a cute baby girl was born. On this auspicious day, my invocation to God is to make you a wonderful human. I wish you a happy birthday. I am sending blessings your way.
#4. Here are birthday greetings to a lovely princess of mine. Like the brightest star in the sky, you will shine. I wish you prosperity and joy, my firstborn fairy. Enjoy your birthday and be jolly!
#5. To the sweetest and most lovely princess, I know. Happy birthday, Papa prays that you progress and grow. Many happy returns of the day, and remember dearie, this is my favorite day.
#6. Your dad is so lucky to have you, and I do not know what more to say. I promise to help you grow better every single day. Here are chocolate and flowers. Happy first birthday from your father!
#7. To the firstborn daughter in my life, I hope all your dreams come true. Here is a pretty birthday gift from your papa to you.
#8. You are such a tiny little princess like Autumn's Dew. Happy birthday, all love and best wishes are here for you. Rejoice in life with all its hues!
#9. Glad to see the way you are growing and knowing the world, dear. I am so happy to have you, my firstborn daughter!
#10. I wish you the most delightful of days to you, dear. Happy birthday on this memorable day, Papa wishes you an excellent and brilliant future!
Happy birthday to my firstborn daughter is a special occasion, and the wishes sent on this day should be extra special. Daughters are said to grow up fast. So, telling them they are cherished, especially when they are firstborn, is the done thing. Never miss this opportunity. Because one day, she will be old enough and fly high away from you.
So, let us never hesitate to use words to express our raw emotions to let one of the essential people in our lives, our firstborn daughters know that they made us feel special for the first time by making us parents.