Wedding wishes and messages for the bride and groom must have words depicting our innermost feelings. When two people start a new life, no matter how well they know each other, it is always nerve-wracking.
You must be a part of those people who will send them the most encouraging and wise words to make them less anxious and ease them into this new life with all these new experiences.
Sending them well wishes for their new journey can assure them that you will be by their side like family.
Nothing can touch someone's heart better than some very heart-warming words, and these words will help them feel the sincerity that you have for them.
They need assurances that even if they are new to this, all they must do is take care and love each other unconditionally and be each other's strength.
Wedding Wishes for Newly Married Couples
1. You are starting a new journey with each other. I pray that you will have a beautiful life ahead like your mother. All my love and blessings to you both, and I know today, from heaven, flowers will shower.
2. You will face many new challenges each day. But you should help each other out in every possible way. Have a great, happy, and prosperous life ahead, and the journey starts today.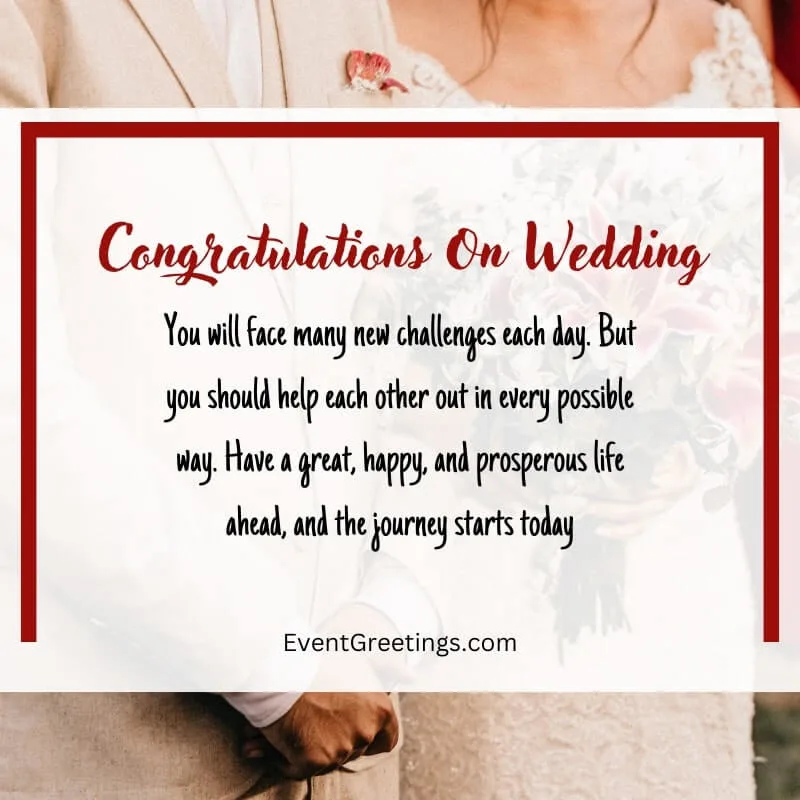 3. It might be challenging to get used to each other all the time. But you will also feel that not being with each other is a crime. Congratulations, and enjoy the moment, as it is a lovely time.
4. May you have all the good things in this world and always be happy. I hope both of you can always remain this much in love and be sappy.
5. May God bless you with good health and a prosperous life. I hope you can stay together forever as husband and wife. All the best for the future. My best wishes for you both are what I have, dear.
6. You two have gone through a lot to be with each other. So, I hope you will have strength and perseverance and can one day become a good mother and father.
7. I hope both of you will always stand by each other through all thick and thin because now you are each other's family and closest kin. Congratulations to you both for this big win.
8. This auspicious ceremony brings two individuals together and helps two families to unite. But you should always make up after every fight. Live a long and healthy life and stay tight.
9. Congratulations, dear, and I wish both of you stay strong together and face all the hurdles in life together because, in the end, other than you two, nothing else matters.
10. Amidst this beautiful ceremony and many good wishes, do not forget that your married life has begun, and so have the days of doing dishes. Be always happy, love birds, and do not forget the hugs and kisses.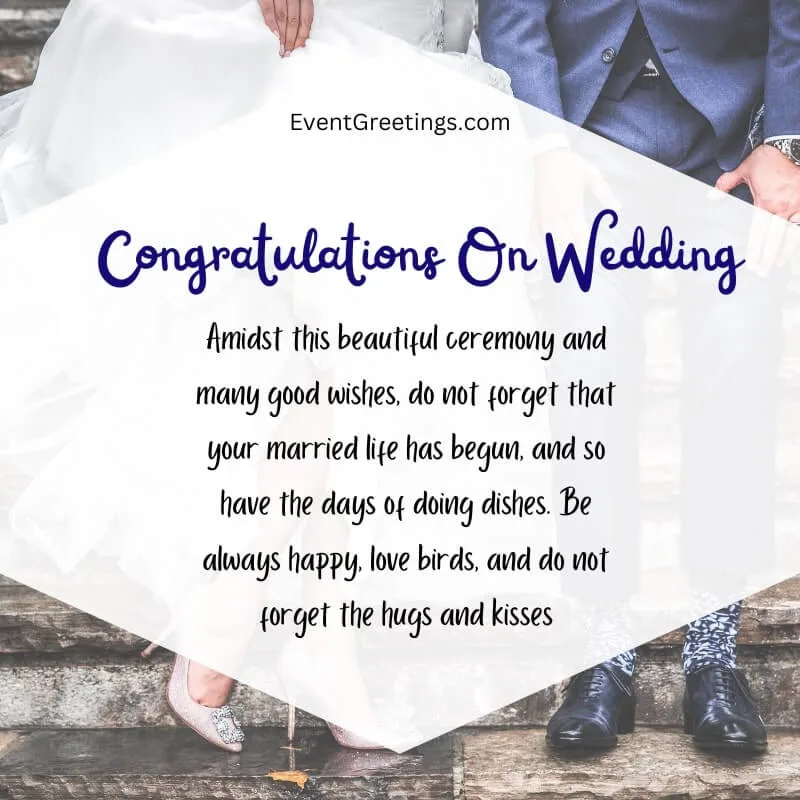 Related: Wedding Wishes And Messages for a Friend
Wedding Wishes For Bride And Groom
Finally, the beautiful day has come! Love has come to be fruitful for both of you, and I cannot be happier for the adventures and memories that you are about to make for each other.
========================
Wishing you a lifetime of love and happiness from this day till the end of days. May God bless you with bountiful blessings and good graces!
========================
Love is in the air – more so today on your wedding day than any other day! May Lord continue to shower you with blessings, strength, patience and love forevermore.
========================
Happy wedding to both of you! May your joining together on this blessed day bring you more joy, love and happiness than you have ever dreamt of.
========================
We're so honored to be here sharing one of the most precious moments in your life with you. We wish you nothing but the best as you embark on this blissful union together!
========================
Sending our wedding wishes to the most inspiring couple that we have ever known! May bountiful joy follow you wherever you go in the years to come, stronger together than ever!
========================
Mazel Tov on your wedding! May the joys from your wedding day last long into the years and decades to come.
========================
Congratulations on your wedding! Your union today marks only the beginning of something much greater to come – we are so excited for you!
========================
Have the best wedding wishes for the best couple on earth! Your lovingness for each other is an inspiration for us all – we can only hope that we'll one day have loved just like yours!
========================
Cheers to the wedding day of a beautiful couple! Life is an amazing journey when we're on our own, yet a greater one still when we have someone with us! Here's to a loving relationship for the both of you!
========================
See: Engagement Wishes and Messages
Wedding Card Wishes
A marriage is not just a union with someone you love – it's accepting them for who they are, their beliefs, their dreams, their preferences and more. Here's to a fulfilling relationship with one another!
========================
Wishing you plenty of happy moments and even more smiles to be exchanged on your wedding – The two of you are definitely made for each other!
========================
A successful wedding requires much more than just some puppy love – it needs tolerance, understanding, but most of all, you need to fall in love with them over and over again!
========================
Cheers to the cute couple! Finally you have tied to knot – it's going to be one exciting journey for you from this point onwards. Enjoy your blissful days together from this day on!
========================
You were strangers, then friends and a couple. Today marks the day when you celebrate your love with an official union, and we wish you nothing but the best!
========================
Casual Wedding Wishes To Write In Card
Here are some well wedding wishes for the two of you! Love is going to be greater today than any other day. Blessed be!
========================
Happy wedding to the happy couple! May your love bloom for eternity, growing more beautiful and stronger than ever in the years to come!
========================
It's lovely to see two people who love each other be together like this – I'm so happy that both of you finally got married! Cheers and remember to enjoy the moment!
========================
Love has always been strong between you two, but on your wedding today, it's only going to grow even stronger still! We hope that you'll cherish each other as much as you do today!
========================
Happy beautiful wedding to you sweet couple! I hope that the days that lie ahead for you two are going to be as joyous as today, with more and more reasons to celebrate your happiness together!
========================
Wedding Wishes Messages
You must have plenty of greetings and wishes to read through, so here are some short wedding wishes for you! Have a happy and blissful marriage, you two!
========================
May God give more blessings and well wishes to the most adorable couple ever! May the shared commitment and love grow stronger each day!
========================
Let this occasion mark the start of a wonderful journey for two unique and wonderful individuals – we love you and we love everything that you have become!
========================
Love is in the air today – I reckon love is only going to get stronger! Do let us know when you're expecting your first child too!
========================
Happy wedding to both of you! I hope that you will be blessed with beautiful babies as lovely as you two. Here's to you both!
========================
I know you are not scared of anything in your life. But now you are already married, so you better fear your beloved wife. Lots of love to the newlyweds, and I must say you have a beautiful bride.
========================
Making amends after fighting and setting aside differences is maturity. Communication is the best way to get rid of any uncertainty. May your relationship survive eternity.
========================
I know you are already too much in love with each other. I still wish your love to grow to the point of getting smothered with care.
========================
Today's beautiful ceremony commences a new chapter of your life. Enjoy your life together, and remember this day as long you survive.
========================
Congratulations, dear, and I am very thankful you included me on this memorable day. Your love story is inspiring me and my bae.
========================