To reach the age of 45 signifies growth and the hardships that often stay behind the curtains. Use these 45th birthday wishes to wish the ones who are having their 45th birthday. Remind them that it's a success to reach this age. Not for any other reason but simply because they've been persevering against the storms that life might have put in their routes to come this far.
They're going to finish the two-quarters of their life in the next 5 years. Whether you want to wish them luck or give them free advice or cheer them up or else showcase your love for them, these wishes are perfect because they comprise every emotion you want to portray.
Happy 45th Birthday
1. Only 5 more years to go for you to finish two-quarters of life. Set a five-year resolution this birthday to let these years take you to the gleaming land filled with joy. Happy 45th birthday.
2. Congratulations on making it to the midway in the lane of 40s. And I wish you all the tools you might need to make it to the end of it. Happy 45th birthday.
3. People with the age of 45 seem to have no choice but to live in the moment as looking back might be painful and looking ahead scary. Congratulations on that and happy 45th birthday.
4. Hold a magnifying glass, watch over the long trail you've taken to come across so far and I assure you that you'll find yourself very fortunate and brave before the day ends. Happy 45th birthday.
5. The completion of nine series of your life, each with five episodes is near. In turmoil of mixed emotions, keep the good ones on the highest frequency to have the best day. Happy 45th birthday.
Happy 45th Birthday with Images
1. The grey cells that help you hold and present yourself so precisely and gracefully must be making it easy for a stranger to assume you're in your forties. Happy 45th birthday.
2. At 45, it's okay to turn the light dim and get busy daydreaming as the child in you awakes when the urge to fit into society dies. Enjoy the most peaceful forties. Happy 45th birthday.
3. May whenever you turn pages, laid back in your armchair, this chapter put up a smile on your face, and a wave of warmth soothe your heart. Happy 45th birthday.
4. Let your soul wander this year freely to let the creative side of you rule over any technical roots for life is too short to be in a box. Happy 45th birthday.
5. Deadlines can wait but fun cannot. Not today at least. It's your day. Don't forget to get loose and dance like a ten-year-old to inaugurate a new chapter of your life. Happy 45th birthday.
Funny Birthday Wishes for 45 Year Old
#1. I know the remedies to deal with wrinkles and can tell you the ways to help you play it cool and look younger, in other words, to not feel your age. Happy 45th birthday.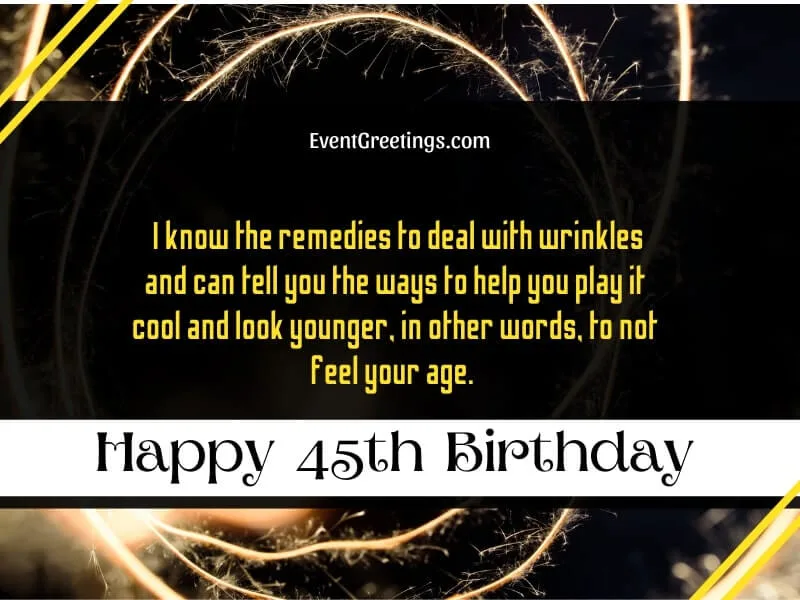 #2. You've never acted your age, however, 45 is the age you can start adapting the act of maturing so people around you can also start taking you seriously. Happy 45th birthday.
#3. 45 is a number that you should take lightly. You shouldn't let it constrain the child in you. However, when it comes to that number of candles, you can stress out. Happy 45th birthday.
#4. I wish it was easy for you to switch from one character to another so that you could come into the character of a 45-year-old from a 15-year-old. But happy 45th birthday.
#5. The fact that you still forget to put on the pants when in rush and can't figure out a perfect parking spot makes me doubt your age. But Happy 45th birthday.
1. We might not know your formula to stay young and look alive every day but we do know that it gives us many instances to brag about you. Happy 45th birthday, dad.
2. Calling you a superhero still won't give you any idea about how truly wonderful you're. For you're so grounded that you won't even see yourself as an extraordinary man. But, you're. Happy 45th birthday, dad.
3. To reward you for the integrity, hard work, dedication, and passion you show for your work and family, if we could give you the award of the best gentleman, we would. Happy 45th birthday, dad.
4. You're the man who will carry himself with sound health and a rich mindset regardless of his age and hence we have got nothing to worry about. Happy 45th birthday, dad.
5. Drumroll, please. My dad is turning 45, however, his physique and energy levels might not make you believe it. But trust me, he is. Happy 45th birthday, father.
45th Birthday Wishes For Mom
1. Mother, the beauty your soul holds is so pure gold that whether you turn 45 or 65, it can never stop reflecting outward. Happy 45th birthday, mom.
2. The purity of your heart and the goodness of your soul has set an example of a human being we wish to become one day, thank you for that, and happy birthday, mother.
3. Mother, we might not know the remedies of your everlasting glow and the recipes of flavoursome food. But we do know, we're lucky to have you as our mother. Happy 45th birthday.
4. The grace with which you carry yourself and the chunks of optimism you leave people with will always make you look beautiful. Happy 45th birthday, mom.
5. At the age of 45, the way you wear multiple hats and never fail to play the assigned role makes us so proud of you. We love you, mom. Happy 45th birthday, mom.
1. Dear friend, you're in the era of setting yourself free. Don't let it pass you by. Let this 45th birthday be an occasion to find new ways to break free. Happy 45th birthday.
2. Today, we're going to put all the burdens down to get lighter on our feet and forget all the worries to loosen up. All this just to celebrate your day, happy 45th birthday, honey.
3. Our ability to dream and make them a reality dies at no age. Set this as a reminder to fight the thoughts and society that tell you otherwise. Happy 45th birthday, friend.
4. You're growing yet the parts of you with which I spent my high school days have not died; make me happiest for you and help me treasure our friendship. Happy 45th birthday, friend.
5. Grow faster or slower. Grow older or younger. Do anything you wish to. The only no-no for you is breaking our friendship. You can commit a crime but not break this bond. Happy 45th birthday.
Read More:
These are the happy 45th birthday wishes you can save to share when the special occasion of reaching the age of 45 in the life of your close one arrives. All the wishes are unique in terms of the emotions they portray. Make the person feel special by sliding in their DMS with the wishes they've never been wished with.
There exist plenty of ways to showcase your love on someone's birthday. But make your way with words and you shall never fail. You can't go wrong with the wishes, not at least when you go with the above-mentioned ones.