Receiving a good morning text from someone you love brings a smile to your face, doesn't it? These good morning miss you quotes are the ones that you can use to bring that smile to your favorite person or to reply to the good morning texts you get. In either case, morning is going to be sweet and delightful for both of you. These poetic and romantic quotes will make your morning serene.
Good morning texts are crucial to making your person feel special. They say, morning is a glimpse of our day. So, send these good morning quotes to your favorite person to start the day on a beautiful note.
Good Morning Miss You Quotes
1. Knock, knock, the sun has risen from the valley of flowers and I've woken up in the hope to see you today as I miss you; good morning.
2. The gliding sunlight at the window feels like a beacon of light making me hopeful to see you soon as I miss you already; good morning!
3. The sound sleep is certainly not enough to prepare me for the day, I need to meet my powerhouse to be prepared; so get up and meet me soon. Good morning.
4. Good morning. You visited me in my dreams and since I woke up, I've been missing you. How long would you take to get up and get ready to meet me because I can't wait!
5. Good morning. This morning is enchanting. I'm only skeptical if it's due to the beauty of nature or of your thoughts! Let's meet to find out? Let's meet anyway because I miss you.
6. Are you set to share your day with me? Are you set to be in our fairyland? Are you set to take over the day together? I know, I'm, as I miss you. Good morning.
7. The events of my day are fully cataloged. As each of them includes you, my day looks as perfect as this sunrise. Good morning, miss you.
8. Before this morning passes by in the blink of an eye, let's drink this potion of beauty to put our souls on fleek. Before I start missing you more, let's meet. Good morning.
9. In the bird's chirper, I feel at peace. The morning comes with an invitation to be serene for a while and I always take it, what about you? Good morning, honey, I miss you.
10. The only morning routine I have to follow is to admire the sun, have tea, and daydream about meeting you. Wake up and make my daydreams a reality as I already miss you, good morning.
Read: Good Morning Paragraphs For Him
Good Morning I Love You And Miss You Quotes
1. The morning has cast its spell again today and I fell in love with you again. As I'm already missing you, will you wake up quickly and meet me swiftly? Good morning, love you.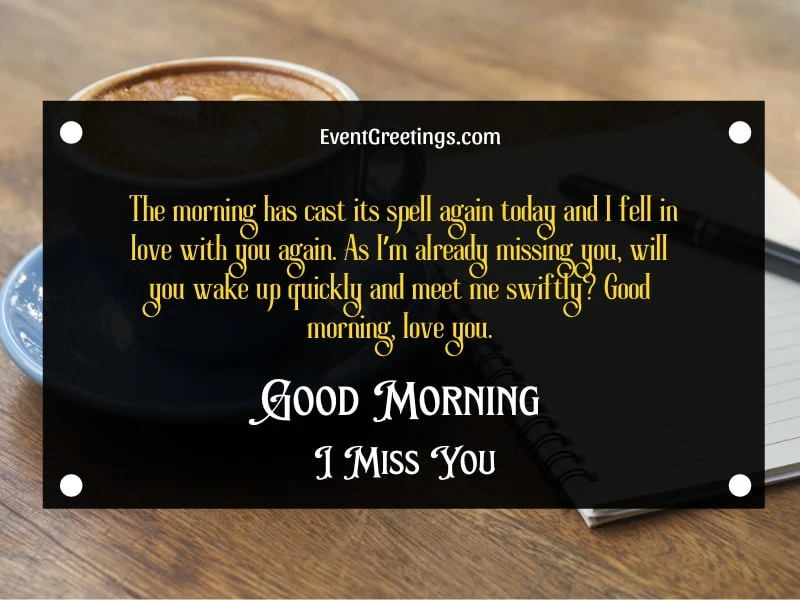 2. Let me seal the deal of love before the day wraps you up in its chaos. Let me put a hold on time by meeting you before it takes over me, love you. Good morning.
3. As the curtains rise, a beam of cheer wakes me up. It tells me to wake up to the wonder of the world. Will you be with me on this ride? Good morning, love.
4. Honey, wake up to this heavenly morning to adore the dewdrops and stop by to smell the roses. Wake up to make my morning, love. Good morning. Love you.
5. Like the prism, I'll turn your morning into this beautiful spectrum of joy and love, but can you please wake up for that? Good morning, honey. I love you.
Take A Look: Good Morning Text To Your Crush
Miss You Romantic Good Morning Messages
1. Like an anchor you penetrate the ocean of my thoughts and resist me from waking up from your dreams; the only resistance I prefer. Good morning, honey, miss you already.
2. The flute in the jazz and the birds in the morning do the magic that brings me back to life. Wake up to feel it yourself. Good morning, miss you.
3. As this morning unfolds, the planes of opportunities to cherish the day reveal themselves. Wake up honey and grab onto them to make your day. Good morning!
4. Good morning, honey. Remind yourself to breathe as you wake up, inhale the serenity of this dawn and exhale the worry. And last but not least prepare yourself to meet me to make my day.
5. Look out of the window and a bird will be singing to you. If you listen to it carefully, like a french horn it will be screaming to you that I love you. Good morning.
Good Morning I Miss You Quotes
1. Like the silver goblet of water, this morning is serving us the best, are you ready to be served the best? Good morning, sweets, I miss you already.
2. Every day I wake up and without a fail, I fall in love with the morning and you all over again.
Good morning, honey, miss you.
3. Take the spirits of the morning, hug them, kiss them and say you're ready to make it your day. Before you start making your day, please meet me as I miss you already. Good morning.
4. Like the halo, this sun is encircling us with his divine light to awake us to all the bewitching things today has to offer, wake up, honey. Good morning, I miss you.
5. Let this morning lift you to the higher realms of love. Let this thin air levitate your soul to the divine realms. But don't forget to take me with you. Good morning, love!
So, this is a list of good morning miss you quotes you can go with. Go with the one you felt an immediate resonance with or the one that sounds very fitting to make your favourite person's morning. Don't forget to save the ones you like to not be a flurry in the morning. Or else, if you're in the mood to be a big brother/ big sister to your friends, share it with them to show them how they can spark up their and their significant person's morning.