"Happy 21st Birthday, Son" wishes are well-written messages that convey your heartfelt emotions on your son's birthday.
Your son's birthday is a memorable day for him and you. Parents go through the overwhelming journey of nurturing a child, and his birthday is a gentle reminder of the years that have gone.
It is usual to feel emotionally overwhelmed to see your son grow up and be a fine young gentleman. Wishing him his 21st birthday is an emotional affair, and you might fall short of words to express how you feel on his birthday.
We are here to ensure that your feelings get translated into meaningful words. Our birthday wishes are created so you can easily choose a unique birthday wish for your son on his 21st birthday.
Happy 21st Birthday Son
#1. Time waits for none, and so 21 years went by so quickly that I did not even get time to turn and see how fast you grew up to be this fine young gentleman. Happy birthday, dear son.
#2. Twenty years it has been, but I can still see your one-year-old self, sitting in that corner with mashed cake in your tiny hands and cream on your toothless face. Celebrate your 21st birthday with grace.
#3. My lovely son, God blessed me to have you in my life. I wish you a happy birthday and pray to Lord that you get what you desire in this life.
#4. God has given me everything by giving you. So, I only pray that He is there to guide you. Dear, I wish you a fantastic 21st birthday to you.
#5. Nothing is more precious than your good health and long life. On your 21st birthday, I bless you with all my heart so that you prosper and successfully survive.
#6. The days of childhood have quickly gone by, and now you are a man with duties and responsibilities on your shoulder. But do not think of these as boulders but as stepping stones that will make you stronger.
#7. God granted my wish when I had you. Now, I always pray for you. I pray to God to help you and be there for you. Happy 21st birthday, son, and remember, I love you.
#8. I wish you to be like water and go with the flow. Life will take you to various places you only follow. Celebrate your 21st birthday, son, with glitz and glamor, and let it be a massive show.
#9. My child, you are now 21 years old. You have new paths and horizons opening for you, so be bold. Choose wisely and keep learning and do as told.
#10. Time passes fast, and see, now you are a man. It seems like time ran, and here you celebrated your 21st birthday as a man.
Read: Happy Birthday Son From Mom Quotes
21st Birthday Wishes To Son From Mom
#1. I shower my blessings and congratulations on you for becoming an adult. It is high time, my boy, you take up more responsibilities and accept each fault. Prove to the world that you can. Happy 21st birthday, my young man.
#2. To the most handsome young man, celebrate the happiest 21st birthday with beautiful memories and laughter. Your mother wishes many happy returns of the day to you, dear.
#3. I cannot deny I had a responsible child like you because of God's grace and blessing. I wish you many happy returns on your 21st birthday, my prince charming.
#4. Only twenty-one years ago, the Lord offered me a cute baby boy. On this blessed day, my prayer to the Almighty has all my gratitude and joy. Son, celebrate a fantastic 21st birthday. I am sending blessings your way.
#5. Here is a deep 21st birthday wish to a gentleman of mine. As the brightest star in the sky does, you shine. I pray for your happiness, laughter, joy, and everything. Your mama blesses you for all the positive things!
#6. To the cutest and most handsome prince, I know. Happy 21st birthday, I hope that you happily grow. I wish you many happy returns of the day. Today is the best day in May.
#7. May all your dreams come true, like your parents, there will be none for you. Life is a challenge that you realize as you turn twenty-one. On your 21st birthday, celebrate the birthday while having fun.
#8. Your mama is so lucky to have you, and I do not know what more to say. I will be there on this journey even if I am away. I am sending you your favorite dishes, son. I wish you a happy 21st birthday, and I will be there for you even if you are gone.
#9. To the favorite soul of my life, I hope whatever your dream comes true. Here is an elegant 21st birthday wish from your mama to you.
#10. You are a young, bright fellow like autumn's dew. Happy 21st Birthday, all love and good wishes, and enjoy your life with all hues.
Happy 21st Birthday Son From Dad
#1. Happy 21st birthday, my dear! Today will be the end of your being a teenager. May Lord bless you on this memorable day and shower joy on you every day!
#2. Heartiest congratulations on turning twenty-one! May your future unfold to be as attractive as your smile, son. I wish a happy birthday to the kindest man.
#3. Enjoy this special day of your life to the fullest. I wish you a bright future—let the 21st be the happiest.
#4. I am delighted to see how manly you have become, son. I am so happy for you as today you have turned twenty-one. So, do not think about anything else and have fun!
#5. I wish you the most delightful of days to you, dear. Happy 21st birthday, and I pray for your bright future!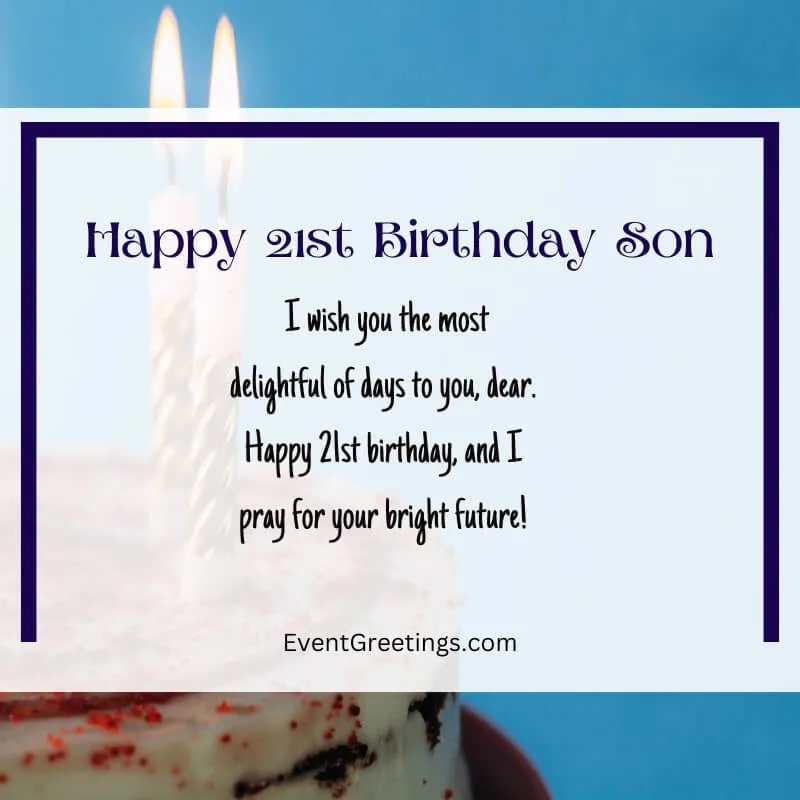 #6. I wish you a long and healthy life and hope you stay cheerful. I hope your birthday this year is twenty-wonderful! Complacency is not always good, so you should strive to be better. Grab the opportunities for the next chapter.
#7. As you turn twenty-one, a new journey is set. I hope you enjoy every second of this day with cakes and your favorite chocolate.
#8. Perhaps I was never as happy as I was on this day. Daddy wishes you a joyful and prosperous 21st birthday!
#9. Happy 21st Birthday, my boy. As you turn twenty-one, your father is overwhelmed with joy. Always know that you are braver than you believe and smarter than you think. Eat healthily and avoid falling sick.
#10. Our son turned 21 today, and let us wish you a greeting and a handshake. It does not mean you have grown up, no matter how many more candles are on your cake.
Funny 21st Birthday Wishes for Son
#1. From being that little toddler who crawled, all around the house, you have become the finest gentleman waiting for his spouse. I wish you, dear son, a happy 21st birthday. Do have fun today.
#2. You were the naughtiest kid in the town, but your little smile removed everyone's frown. The journey of 21 years has bought us here, and now you wear your 21st birthday crown.
#3. I did not know the kid who did so many pranks would grow up to be a completely different man, to be frank. Through all these years, I have seen you get better. Happy 21st birthday, dear.
#4. Your fun-loving attitude is still the same. Everyone's face lights up when we utter your name. With your arrival, happiness came. Happy 21st birthday, dear son, and I hope you achieve enough fame.
#5. After 21 years, you are still that same funny guy who can make smiles appear and sorrow fly. On the eve of your 21st birthday, I pray you stay blessed each day.
Our Happy 21st Birthday Son Wishes truly encapsulate the blessings and warm feelings of a parent. As parents, people must undergo a lot of challenges to raise their kids. Having a child is a blessing, but ensuring the child grows up to be a model citizen is a hefty task.
Parents are always proud of their children, but while wishing them, they might find themselves at a loss for words to express their genuine emotions.
Hence, we have created some spirited and expressive birthday wishes. It can serve as the best birthday wish for your son.