Thinking of appropriate words while sending "long-distance birthday wishes for boyfriend" is essential because you want to convey your feelings through those chosen words.
When you are far away, the chances of drifting apart are high. So, remembering the memorable days and wishing on those special days can help your boyfriend realize his worth and importance in your life.
In this article, we crafted some long-distance birthday wishes you can send to your boyfriend. Tell him that your entire existence occupies him.
These wishes are words taken from one's heart, and the emotions are genuine and raw. So, use these wishes to strengthen your bond even when you are far away from each other.
Long Distance Birthday Wishes For Boyfriend
#1. On your birthday, I wish you lots of good luck for your life ahead. I hope you are working hard and not lying on your bed. Happy birthday, and remember what I have said.
#2. Even if we are miles apart, I wish you celebrate a happy birthday, sweetheart. I hope you have a good life in every possible way while remembering me with all your heart.
#3. I am very proud of the man you have grown up to be. When you become even more successful, please do not forget me. After a hard-working day, celebrate your birthday joyfully.
#4. I am sending you lots of love because your happiness comes first and all above. So, do spend the best birthday today. Dear boyfriend, I wish you many happy returns of the day.
#5. I know birthdays for you are no big deal. But today, you get to know how your loved ones feel. Happy birthday, darling, and enjoy the long-distance pampering.
#6. Distance never really meant anything when the feelings were this strong. I hope you receive all my love on this special day and enjoy your birthday, humming your favorite song.
#7. The birthday boy is so far from his family, making you melancholic. But still, enjoy your birthday with friends, and do not be a workaholic.
#8. You are one of the most vital people in my life, and I hope you know that. Stop moping around and enjoy your birthday without being a brat.
#9. It seems like years since I last saw you. Thus, I decided to meet you. It is the best gift I can give my beau. Dear boyfriend, let me wish a loveable birthday to you.
See: Miss You Messages for Boyfriend
#10. Happy birthday, baby. You are my sweetie. I hope all your dreams come true and you get everything you desire. I will always be your number one supporter, free to hire.
#11. I love you and wish you all the best for your life on your birthday from afar. Always smile because you are my galaxy's brightest star. Happy birthday, and stay healthy, dear.
#12. I hope to be with each other very soon. Then celebrating all the pending birthdays will be a boon. Let me wish the happiest birthday to my lovely boyfriend, who, with a beard, resembles a goon.
#13. Even though we are far from each other, spend your birthday with the special people in your life, dear. Go, eat some good food, and drink some expensive beer.
#14. Dear boyfriend, your birthday is special for me, on that day we were fated to meet. We match with each other as two puzzle pieces would fit.
#15. I pray to God that He'll fulfill all your dreams. Always work hard because I know you will achieve what you want, no matter how hard it seems. Happy birthday, my love, and stay positive, and you will reach your dreams.
Read More: Goodbye Message For Boyfriend
Long Distance Birthday Wishes for Boyfriend
#1. I wish the happiest birthday to the person who has made all my dreams come true. I know we are not celebrating together, but I hope for the best in everything for you. I pray to the Lord to always bless you.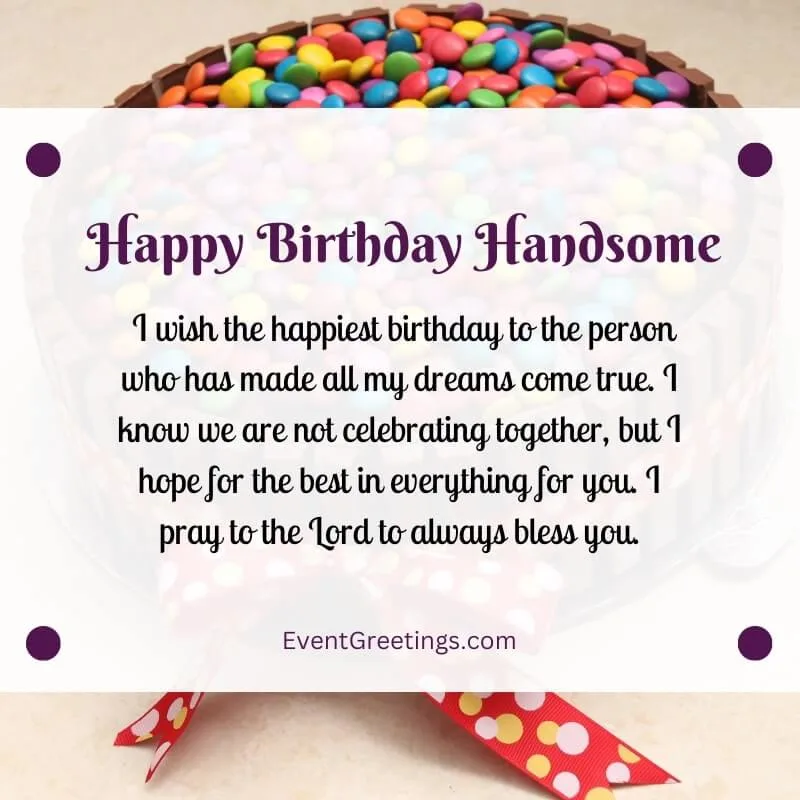 #2. On your birthday, every year, I thank God for giving me a lover like you because my life would not be complete without you. Happy long-distance birthday to you.
#3. I hope your birthday is full of love, joy, and fulfillment, as I find in our relationship. Enjoy the day without me, and send me the clip. I love you, honey. Please do not miss me.
#4. I want to hold you a little tighter on this special day. But I cannot do it because you are too far away. My love, celebrate a joyous birthday.
#5. The best part of our long-distance relationship is sharing it with you. I hope your birthday is super awesome and fascinating, as are you.
#6. Remember, my love for you is unconditional. I wish a Happy Birthday to my perfect partner, who is modern yet traditional. Let me send you virtual hugs and kisses to make this day special.
#7. You know my falling star wish came true when I fell in love with you. Though we are far from each other, each year, my love gets stronger for you. Dear boyfriend, I wish a happy birthday to you.
#8. Though from a long distance, cheers to another year together. No matter what happens in the future, we will achieve anything and everything if we are together. Dear boyfriend, you are a cutie. Let me wish a happy birthday to my one and only.
#9. Sadly, we cannot celebrate your birthday together because you are far away. But you know I still get butterflies because of you, bae. Let my message wish you a shy and romantic birthday.
#10. Let go of all the problems and struggles and let loose. Hoping from far away that you have a great birthday, and do not forget to have your favorite juice.
#11. Being far away is not as easy as people say because time is steady and slow. I hope you have an unforgettable birthday without feeling low.
#12. Though you are not here with me to celebrate, I still wish you a fascinating birthday. I will pray to God so that all your sorrows go away.
#13. Staying away from you is very hard. But I know it is better like this than to have all, which is absurd. You are the best boyfriend, sweetie. Happy Birthday, baby.
#14. I feel sorry that we cannot be together today. I hope you have a joyful birthday, and do not forget me anyway.
#15. I may be miles away from you, but I am sending all my love to where you are right now. Enjoy your birthday, and may all your wishes come true somehow.
Birthday wishes are always memorable, and it becomes ten times more special when it's a "long-distance birthday wish for your boyfriend." Wishing your boyfriend, far away from you, a happy birthday can make their day special. There is no need for expensive gifts or extravagant gestures, only use words to depict your love for them.These words become extra meaningful when you have not seen each other for some time and live far away from each other.
So, let us use words more valuable than the most expensive gem available on earth. A small Happy Birthday and a few choice words are enough to make them feel important.