Having a male best friend in your life is a blessing. He supports you like a friend and protects you like a brother. On his birthday saying a mere "Happy birthday male friend" is not enough. If you want to send a heartfelt birthday wish to your male friend then here are 40 quotes to make his day!
Birthday Wishes for Best Friend Male
1. Happy birthday, mate. I've always thought highly of you because of your values and beliefs although your jokes sometimes make me question my view and opinion.
2. Happy birthday to Sherlock who somehow always knows what took place where and how but never remembers where he put his socks!
3. Happy birthday to the only male best friend I have from high school. A huge thank you for having made my( a nerd's) childhood fun, otherwise only books have been my best friends.
4. We're getting old, mate. Days of partying till the morning and not getting over our hangovers are behind us. Just kidding, our traditions must be followed. Happy birthday.
5. Only because you have a good heart, can I look over the dirty mind you have. To one of my wildest male friends, Happy birthday. May God make you a Saint in the next lifetime.
6. From making me learn how to lie and how not to die on the side roads while throwing up, you've saved me many times. Thank you for all those times and happy birthday.
7. To have a gentleman like you as one of my best friends is the most fortunate thing that's happened to me because I've learned so much about positive masculinity that I'd never otherwise. Happy birthday.
8. You have such a kind heart. Your innocence and kindness are your strength and it is always the case for the strongest men. Happy birthday, man!
9. The only two things you shall avoid in your whole life, to save others, are singing in karaoke and making puns; otherwise, you're doing fine. Happy birthday.
10. We hope after the dumbbells, we stand a chance to meet you and celebrate. Cheers to your day and the birthday workout. Happy birthday.
Happy Birthday Male Friend:
1.Today is the day you can into this world. I cherish every moment I have spent with you. Happy birthday, dear friend!
2. Having a best friend like you is nothing but a blessing of God. You have been my rock since day one. Have a happy birthday.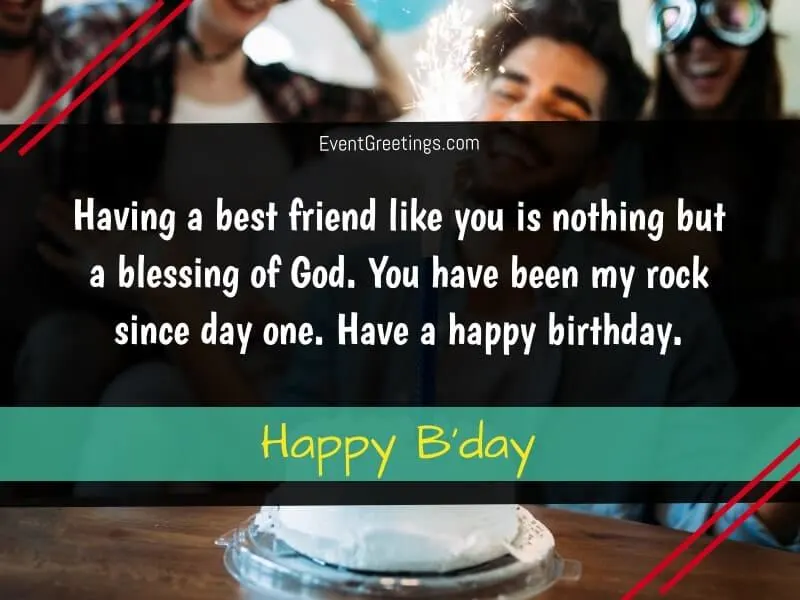 3. God didn't bless me with a brother so I found one myself. We are truly partners in crime and I hope we stay like this forever. Happy Birthday!
4. On this happy day, I am sending thousands of wishes and blessings your way. I hope you get whatever you have desired in your life. Have a blast on your birthday!
5. Happy birthday to the man who has always been there for me as a friend and protected me like a brother. You are truly a gem!
6. It has been [Add Number] years that you have been on this planet but you started living when I came into your life, right? Happy birthday, bro!
7. Happy birthday dear friend. May all your dreams come true and you prosper in life. Have a blast!
8. I hope this day is full of joy, laughter, and unforgettable happy memories. Have a wonderful birthday, my buddy!
9. Hey friend, that's for always being there for me. I know would have been a mess without you! Happy Birthday.
10. Today is your special day, so I am sending the warmest wishes your way. I hope the coming years bring you joy and contentment. Happy Birthday!
Read: Birthday Wishes For Old Friend
Birthday Wishes For Male Friends:
1. I am thanking God that he sent you in this world and then in my life. I am so grateful to know a guy like you. Happy Birthday!
2. It is finally your birthday and I know you are going to have a blast. I wish I could be there to share all the fun with you. Have a good time!
3. May you have a long, healthy, and happy life that is full of excitement, surprises, and fulfillment. Happy birthday, pal!
4. You are the one person I know who has never done any harm to anyone. I hope you get the same in return forever. Happy birthday to you!
5. Happy birthday to the guy who has filled my life with laughter and positivity. May you have many more!
Also Read: Birthday Wishes For Your Crush
Birthday Wishes For Best Friend Male:
1.On this day, my best friend in the entire world was born. I am happier than you on this day. Have a blast.
2. Today is your day to forget everything and celebrate. You are growing into a graceful man. May you have a wonderful birthday!
3. It is your birthday, my friend and we are all here for you to celebrate your happy day. May you have all the happiness in the world.
4. Hey friend, just know that you are the best that has ever happened to me. I can't imagine my life without your constant stupidity. Happy birthday!
5. You are the person I have received the most help and love from. Thanks for always being by my side, buddy. Happy birthday!
Check: Inspirational Birthday Quotes
Funny Birthday Wishes For Male Friend:
1. Hey best friend, I hope you have a blast on your birthday but make sure to not end up in jail. Happy birthday.
2. Happy birthday from the best person in the world. Yes, you read it right. Have a wonderful day!
3. You getting older and so are your jokes. I will love you regardless of your lame jokes. Happy birthday, best friend!
4. Thank God I am not there to bring a birthday cake for you or I would have gone broke buying that many candles for your birthday cake. Happy Birthday!
5. Enjoy your birthdays before your hair turns grey and your teeth fall out. Have a wonderful birthday, my friend!
Birthday Wishes for a Male Friend From a Female
1. Happy birthday to one of the best crackheads I know. May your wisdom and intelligence be transferred to me in bits and beats.
2. For all the good deeds you've done, may the divine reward you with everything that is for your highest good. Happy birthday.
3. Cheers to the man who has been living a wonderful life outside of video games and the field of chicks, you're genius and dope. Happy birthday.
4. May you align yourself with your truest desires and wishes to achieve the recognition and success you truly deserve, happy birthday.
5. To the man who looks divine in the suit tuxedo but also in the morning tracks. To your beauty cells, innocent heart, wise soul, alpha mind and beta pockets, happy birthday.